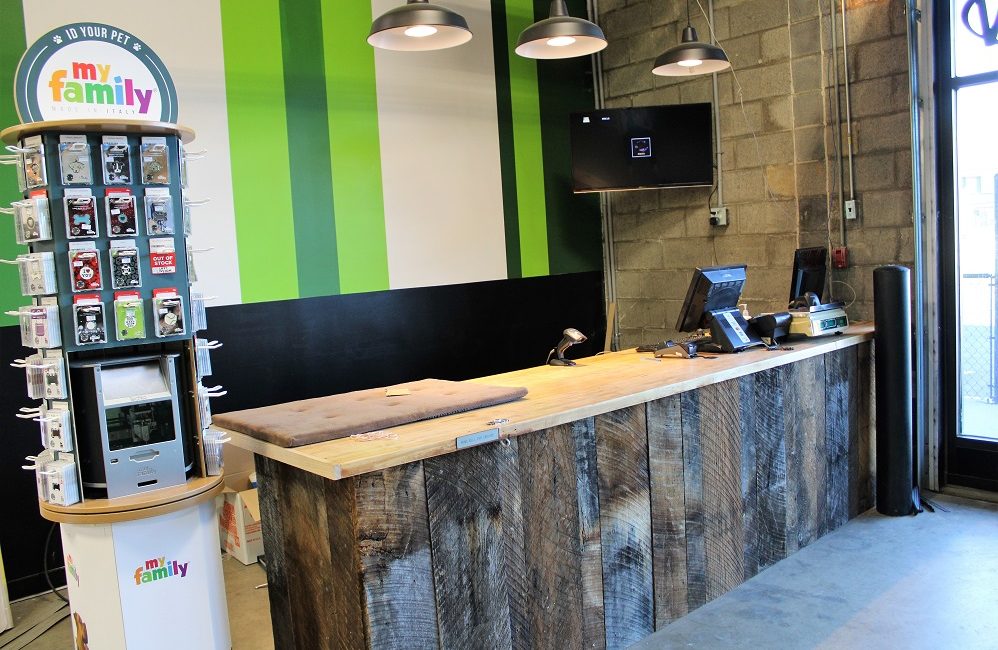 Today, Eastern Pet Supply opens in its new, larger location. The store – the largest family-owned pet store in the state – is still situate on Johnson Avenue, but across the street from its former store at Blake Center.
"We have been searching for a new place because we could no longer grow in the center that we have called home for the past 30 years," said Co-owner Amy Veltri. "So, when the building across the road opened up, we had to act fast."
The new 17,000 square-foot store has allowed Eastern Pet Supply to expand its services; for the first time, offering daycare for dogs.
"We will now have a separate entrance to our Grooming/Doggie Daycare which is separate from the pet store, and we will offer doggie day care – we hope – within a month."
The reason for the wait, Veltri said, is the development of outside play areas.
Insofar as grooming services, Eastern Pet will offer self-bathing, allowing customers the option to bathe their own dogs.
Eastern Pet carries pet foods, toys, treats, CBD products and other personal care supplies for dogs, cats and more unusual pets, such as reptiles and exotic animals. The store sells chinchillas, guinea pigs, ferrets, rats, and rabbits.
Iguanas, geckos, bearded dragons, pythons, boas and other snakes are housed in the Jurassic Reptile Room. Also living there are turtles and tortoises, Pacman and tree frogs and an array of spiders, including various species of tarantulas and scorpions.
Eastern Pet Supply also houses feathered friends, generally parakeets, cockatiels, and love birds, as well as colorful freshwater and saltwater fish, tanks, aquarium and pond supplies.
Veltri and her husband Joe attribute Eastern Pet's success and growth through the years to the love and support of customers and employees.
The store first opened in a 1,200-square-foot space at Blake Center. Joe's dad, Tony, was then the owner.
"The pet industry just kept growing and they needed to expand," Amy Veltri said. "So, in 1995, Joe moved back from Pittsburgh to take over the business and saw the need to expand."
Joe and Tony agreed that when another spot at Blake Center became available, they would utilize it. That gave them 2,500 square feet and in 1997, the expanded again, utilizing 5,000 square feet at Blake Center.
In the year 2000, Amy and Joe were married and expanded into 11,000 square feet, adding grooming services.
In addition to in-store shopping, Eastern Pet Supply continues to offer express pickup service. Visit easternpet.com, choose items and place order. Upon arriving at the store, park in an Express Pick-Up spot and call 304-842-4194 and an employee will bring out your order. Allow 30 minutes from time of placing order for it to be processed.
Find Eastern Pet Supply at 1403 Johnson Avenue in Bridgeport, between Sheetz and Simpson Square.