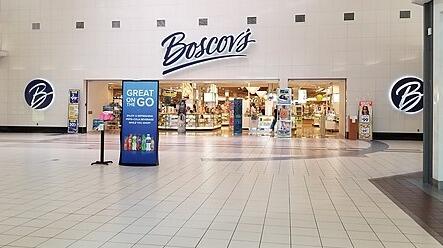 Details are in place for this week's Boscov's grand opening at Meadowbrook Mall.
Those shopping the Thursday, Oct. 6 Charity Day must present a ticket purchased from a participating nonprofit or can purchase one at the door for $5. Each shopper will receive a gift upon entering the store, which will be open 10 a.m. through 10 p.m. An estimated $100,000 will be raised for local nonprofits through the sale of Charity Day tickets.
Free entertainment will take place throughout the store Thursday. From 10:30 a.m. through noon, live piano music by Rick Blackson will be provided at the center of Boscov's. Featuring instrumentalists Adam Moyer and Kiara Williams, "Key to Adam" will perform at the same location at 12:30 p.m., 2 p.m., 2:30 p.m. and 4 p.m. At Boscov's mall entrance, Blackson and his wife Mary Jo Maluso will perform at 2 p.m. and 7 p.m. The Tim Laushey Trio Band will entertain shoppers at 4:30 p.m. and 6:30 p.m. at the center of the department store.
Also taking place on Thursday will be activities for kids all day in the toy department. Crafts and games will feature Play-Doh, Hot Wheels, Cra-Z-Art, Legos, and Melisssa & Doug. In the children's department and center of store will be face painting, caricatures, and balloon artistry.
The celebration continues 10 a.m. through 10 p.m. Friday, Oct. 6, which has been designated Family Day. Candy sampling at the candy counter will be ongoing 11 a.m. through 5 p.m. and food sampling will be available 10 a.m. through 4 p.m. at the housewares department. Kids' activities and demonstrations will continue throughout Friday. Entertainment will include Mary Jo Maluso & Rick Blackson, 2 p.m. and 7 p.m. at the Boscov's mall entrance; Blackson 10:30 a.m. and noon at center of the store; Key to Adam 12:30 p.m., 2 p.m., 2:30 p.m. and 4 p.m. at center of store and Laushey Trio Band 4:30 p.m. and 6:30 p.m. at center of store.
Saturday, Oct. 7 festivities kick off at 9:30 a.m. with a ribbon cutting and end at 9 p.m. with a fireworks display, viewable anywhere within the Meadowbrook Mall parking lot. Elvis Aaron Presley Jr. will perform at 2 p.m. and 7 p.m. daily Oct. 7-14 at the Boscov's all entrance.
Discounts and major giveaways will be featured throughout the three-day grand opening.
With corporate headquarters in Exeter Township, Pa., Boscov's is a family-owned department store with locations in Pennsylvania, New York, New Jersey, Delaware, Maryland, Ohio, Connecticut, Rhode Island and now West Virginia. The Bridgeport store is the company's 50th and the first in the Mountain State. Excitement has been building since the store was announced in February of 2023. The months to follow featured major renovation work at Meadowbrook Mall to prepare for the new mall anchor.