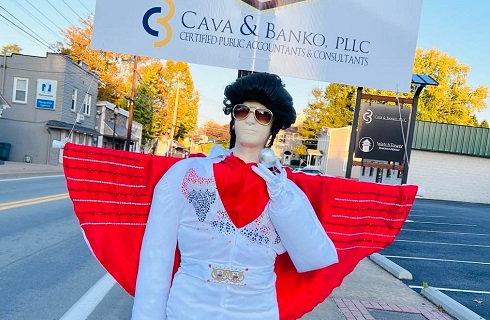 In just days, dozens of whimsical personalities will greet Main Street motorists and walkers. The Associated Businesses of Bridgeport Scarecrow display and contest begins Oct. 1.
Each ABB member business can create a scarecrow to be stationed at an assigned city lamp post. And the more creative, the better.
"Since beginning the contest several years ago, we've had a people's choice award, determined through voting on Connect-Bridgeport, but in 2021 we added a judges' choice award," said ABB Board Member Hilary Gonzalez, who spearheads the contest. "It's all just done in fun. There's no big prize, but the winners do get their business name and a photo of their winning scarecrow posted on a traveling plaque – and they are able to display that plaque in their business until the following year's contest."
As is tradition, the plaques will be presented at Light Up Night, which takes place this year on Nov. 30.
For the past few years, Hearing Solution Services has nabbed the People's Choice award. Taking the judges' award in 2022 was Cava & Banko, PLLC (pictured left) with the City of Bridgeport (below) and Steptoe & Johson tying for second place.
Some scarecrows are traditional in nature. Others cleverly represent the service or product offered by the business or pop culture personalities.
"It's a fun rivalry between businesses and appreciated by locals and city visitors alike. It helps create a festive atmosphere as we head into the Halloween season," Gonzalez said.
The deadline for the placement of scarecrows is Sunday, Oct. 1, Voting takes place on Connect-Bridgeport beginning Wed., Oct. 4 and ending Monday, Oct. 30. All displays must be removed by Friday, Nov. 3, except for the winning scarecrows, which will remain on display through Sunday, Nov. 5. Any business which pays business and occupation tax in the City of Bridgeport is eligible for membership in the ABB. Dues are $95 per year and are due Oct. 1 to participate in the scarecrow contest and/or Light Up Night.
Members can access a scarecrow display registration form and list of rules 
HERE
.