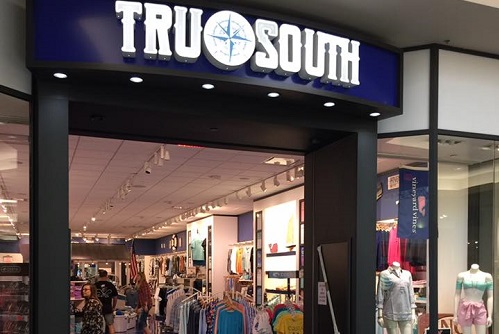 In 2017, Tim and Missy Ingram opened Tru South at Meadowbrook Mall. Located in the former Aéropostale storefront, the fresh new retailer featured a southern, beach-like vibe. Inventory included Simply Southern apparel, Yeti items, Oakley and Costa sunglasses, Sperry shoes and nautical-themed items.
Since then, there has been a change in location – and a shift in focus.
"2017 was a great first year for Tru South. However, after Torrid came along and wanted our space, we moved and sales began to decline," said Owner Tim Ingram. "First, we thought it was from moving, but after talking to several other stores in the mall, we found out most everyone's sales had dropped."
Tru South continued to see a decline in sales and the Ingrams decided to merge Tru South with their other mall store, Xtreme Sports, which carried skis and ski apparel, camping gear and hammocks, kayaks and paddleboards. airsoft guns and accessories, hover boards and like items.
There was now something for everyone.
"Our target customers seem to be somewhat a broad age group," Ingram said. "Of course, the younger women want the trendy clothing and some of the middle age customers buy the kayaks and such."
The store currently carries multiple name brands, including Vineyard Vines, Simply Southern, Ivory Ella, Sanuk, Rainbow, Sperry, Oakley, Yeti, Costa. Ray Ban, Maui Jim, Salt Life, Huk, Home Apparel, Natural Life, Feelfree, 3 Waters, Native and Liquid Logic.
The past few months have been challenging.
"Unfortunately, we do not have a Web site, so it's been a struggle during the closure of our stores," Ingram said.
Now that the mall and many of its retailers are open, Ingram hopes individuals will return to Tru South and other local stores.
"I would hope that customers want to shop local," he said. "If they want to see the mall and small business survive, I'd highly recommend it."
Internet sales, Ingram said, have ruined many brick and mortar stores over the past few years. That, combined with the pandemic and store closures, make it hard for many retailers to survive.
Tru South is now open 11 a.m. to 7 p.m. Monday through Saturday and 12-5 p.m. Sunday.