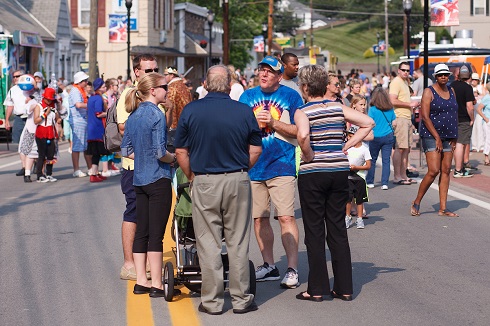 Story by Julie Perine
There will be food trucks – nearly a dozen, in fact, offering a variety of deep-fried, smoked, frozen and otherwise prepared summer-style foods. But there will be so much more.
Saturday's Summer Kickoff and Food Truck Festival will feature live entertainment of multiple genres, seasonal activities – including the largest sandbox east of the Mississippi – clowns, tiny dancers, a cruise-in car show, beach ball bonanza, T-shirt tosses and prize-winning trivia.
The kickoff launches at 5 p.m. on the main stage the corner of Main and Center with an invocation by Pastor Robin Ray and the Pledge of Allegiance led by Boy Scout Troop #40.
"Then when I start the airhorn, I'm going to say something big is happening – it's here: Summer Kickoff 2021," said ABB board member and event emcee Brad Ford.
Throughout 8 p.m., the main stage will feature the sounds of Eric Lewis and fellow "80s Enough" musician. Periodically, summer trivia questions – with free food truck bucks for correct answers – will be offered.
Located across Main Street – east of the Lloyd Lang Bridge to the area of First Street – will be concessions on wheels and the music of Greg Harrison, Josh Oldaker, Ben DeFazio and Jason Young & company. Several Main Street businesses will have their doors open for browsing and buying and some will host booths featuring fun seasonal activities.
Main Street eateries including Winnie's, Almost Heaven and Dairy Queen will offer fare for purchase. With the event just preceding the Dairy Queen's grand opening week, patrons will receive 50% off treats and meals (ice cream cakes excluded.) Seating areas will be set up so locals can eat while enjoying the sights and sounds.
Studio 9 dancers will perform at 6:30 and 7:15 p.m. on the corner of Main and Center. The cruise-in car show will take place between the Lloyd Lang Bridge and Benedum Civic Center and indicated in red on map left). Anyone who would like to display a car must arrive by 4:30 p.m. and enter the area via Orchard Street (across from the Civic Center and indicated in red on map below). Someone will then direct you to your parking space along West Main.
Main Street will be closed to traffic between Virginia Avenue and Third/Philadelphia from 4:30 to 8:30 p.m. Motorists may detour across Philadelphia Avenue (entering via Philadelphia or Virginia) or take another alternate route.
Saturday is Bridgeport's third summer kickoff presented by the Associated Businesses of Bridgeport. Events took place in 2018 and 2019 with 2020's kickoff canceled due to the COVID pandemic. This year's sponsors are the Greater Bridgeport Convention & Visitors Bureau, GAL Land Company, J. Robey Law, Landmark Realty Services of WV and Rominger Dental.
ABB officers and community members have been meeting over the past few months to plan and pin down details for an anticipated gathering of the townspeople.
"We of the ABB have always tried to provide for the City of Bridgeport no-cost events filled with lighthearted time and gathering of families and friends to allow small businesses to enjoy a fun-filled evening to say thank you to the community that supports us," said ABB board member Mark Bonamico.
The fact that Bridgeport is recognized as the best place to live in West Virginia and one of the top 50 places to live in the U.S. hasn't happened by accident, said ABB President Doug Marquette.
"It's thousands of people doing their small part to make our community a terrific place to live, from civic leaders to parents to educators and coaches and to organizations like the ABB," he said. "This is us doing our part as business leaders to bring a great event to our community to bring fun, a sense of community and togetherness – and to make our city special.