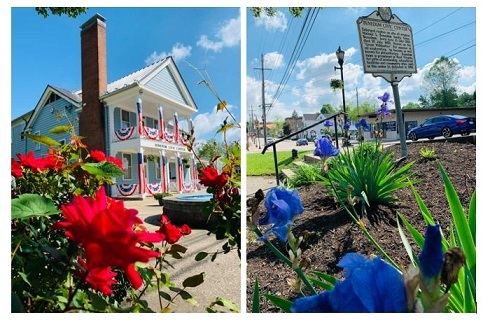 As it is each Memorial Day holiday, the Benedum Civic Center is decked out in its patriotic best. The sparkling water at Bridgeport City Pool is the icing on the cake.
Last year, the pool did not open due to COVID restrictions and precautions, but this year the gates will open – weather permitting – at noon Saturday.
Regular daily rates will apply: $5.50 (ages 12 and up), $4.50 children age 3-11 and seniors (age 55 and over); children age 2 and under are free.
The pool will remain open (weather permitting) Sunday and Monday (Memorial Day). The pool will be closed June 1 and June 2 while school is in session and will reopen Thursday, June 3 for the summer. Admission to Family Night (evening swims on Thursday and Friday from 7-9 p.m.) will be $3.50 per person.
Enjoy photos and video featuring the red, white and blue exterior decor and pretty coordinating flowers at the Civic Center, plus views of the pool and splash park, ready for action.
See additional photos and video of the Civic Center and pool HERE.