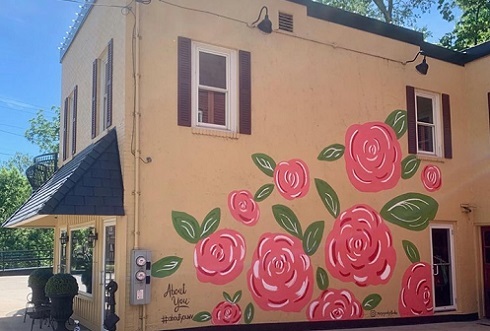 It is just time for something happy and uplifting; a bright, colorful reason to smile.
That's what Lisa Lang, owner of About You Monograms, said inspired her to have a floral mural painted on the outside of her store. It's idea she has had in mind for some time and she decided recently that the time was right.
"I just decided during the pandemic that the city needs to see something happy for a change – something that puts a smile on your face," she said.
It was Casey Gorby of Nutter Fort who created the design, after Lang made some color suggestions.
"Inside the store, I have a wall that has a similar design that features similar colors. They are kind of the colors of 'About You,'" Lang said. "So, we came up with the design and Casey freehanded it. She's very talented."
Gorby said once seeing the colors Lang had in mind and taking in the aura of the store, a design quickly came to mind.
Like the store interior, the mural features a Lilly Pulitzer-inspired design. Gorby did most of the painting May 31 and finished Sunday, adding some dimension. She said she is happy with the turnout and the interest created during the painting of the mural. People stopped and made positive comments.
"Several people sent pictures of themselves in front of it," Gorby said.
That's exactly what Lang had in mind. She hopes customers and passersby will stop and take photos in front of the colorful mural, then use the hashtag #aboutyouwv in their social media posts.
The store, which opened in March of 2016, features custom monogramming apparel and accessories, as well as baby items, jewelry, candles and various other gift items.
"We just try to come up with fun and useful products and people have really enjoyed shopping for them" Lang said. "We focus on bringing in fresh, unique gift items."
One of the newest gift items is an outdoor-scented candle that Lang and her daughter have named "Happy Camper."
Popular items this time of year include beach towels, baseball caps, graduation gifts, summer bags – and an ever-so-soft sweatshirt-fabric throw. Brands which have garnered customer approval include Bogg Bags, Bourbon and Bowties jewelry and Mariposa handcrafted tableware, frames and gifts.
About You Monograms was temporarily closed during the pandemic, but Lang and her longtime staff kept in contact with patrons, servicing them via appointment to get wanted items to them.
The store has reopened its doors 11 a.m. to 3 p.m. Tuesday through Friday and is taking proper precautions. Disposable masks are available and there is a limited number of customers permitted in the store at one time.
On Saturday, June 13, the boutique will host an outdoor market, just outside the store.
"Both our daughters are here, and we just thought people might want something to do. We're happy to show what we have, including some great summer and beach items," Lang said.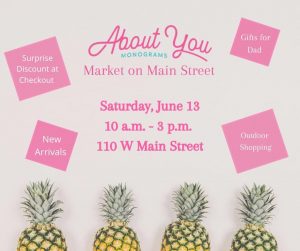 The outdoor market will take place 10 a.m. through 3 p.m.
"We'll do some fun things, like surprise discounts at checkout," Lang said.