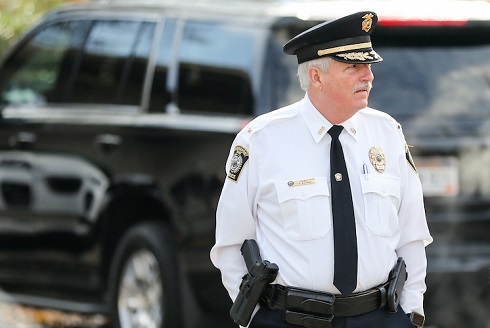 Just how safe is Bridgeport? According to a recent study conducted by Safewise.com, the city is among the safest in West Virginia.
Based on the national home security company's June 4 report, Bridgeport moved up from last year's ranking to crack the top five cities. In fact, Bridgeport comes in at number five.
Bridgeport Police Chief John Walker was happy with the ranking, although he noted a small crime wave can change the ranking significantly in West Virginia.
"It's always very pleasing to see the department and the community ranked as far as having a low crime rate because it shows a good quality of life is available and a well-trained police department," said Walker. "We still have a safe, small-town feel here. We're also aware that a string of crimes, like shoplifting, can change rankings. Data used here can move a city up or down quite a bit in our state."
The majority of the cities listed were in Bridgeport's population range and likely offer the "small-town" feel which Walker mentioned. However, top-ranked Weirton had the highest population of the top five with 18,542 residents.
Charles Town was second (population 6,060), followed by Ranson (5,292) in third, Oak Hill (8,264) fourth and Bridgeport (8,708).
"One thing that has helped lately is people know the community supports us in more ways than one," said Walker. "We've had a very positive trend of the community supporting our efforts in solving crimes."
Bridgeport saw its violent crime rate drop to a 1.0 score, which was down from 2.9 a year earlier. Also, the property crime rate score went from a 31.9 down to a 23.4. Walker said the property crimes include the previously mentioned shoplifting, which is often a problem in a city like Bridgeport that has such a substantial retail base.
"We have a lot of shopping plazas with the mall being the biggest and every incident there and at other retail establishments counts as a property crime," he said. "At the mall, we try to have a presence inside and outside and the mall has a good security force which we work with to help minimize theft. Retail theft definitely works against us when crime ratings come out."
The site used the most recent FBI crime data. In particular, numbers were acquired from the FBI's Uniform Crime Report (UCR) program. Population thresholds were utilized from data available from the US Census Bureau.
The FBI data for the 2020 list comes from the 2018 UCR. Click
HERE
 to see how cities in West Virginia were ranked.
Click 
HERE
 to read the Web site's full report.
Editor's Note: Top photo shows a recent group shots of several members of the Bridgeport Police Department, including Chief John Walker on the far right. Bottom photo shows an officer patrolling in the parking lot at the Meadowbrook Mall. Walker is pictured on the cover.