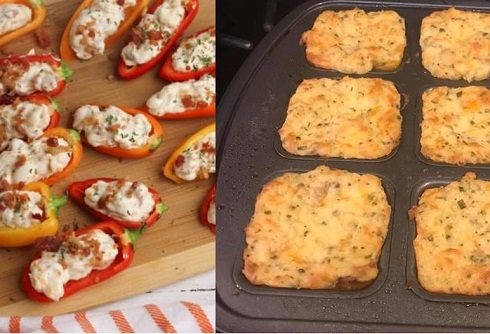 For many, quarantine has meant increased kitchen activity and recipe exhaustion. Do you need something new to make for your family? These Connect-Bridgeport/Greater Bridgeport CVB followers have shared some of their favorite recipes. Enjoy! Please submit yours – and photos, if available – to julie@connect-bridgeport.com.
Upside Down Pizza
by Carla Yaquinta
1 ½ pounds ground beef
1 medium onion, chopped
1 can/jar (15 ½ ounce) pizza sauce
½ tsp. garlic salt
¼ tsp. oregano
8 ounces mozzarella cheese
2 eggs
1 cup milk
1 tbl. oil
½ tsp. salt
1 cup flour
½ cup parmesan cheese
Directions:
Preheat oven to 350 degrees. Brown ground beef and onion, pour off fat. Blend in pizza sauce, garlic, salt and oregano. Put mixture in greased 9X13 pan and sprinkle with mozzarella. In small bowl, mix eggs, milk, oil, salt and flour. Pour over mixture and sprinkle with parmesan. Bake 30 minutes. Makes 12 servings.
Made-From-Scratch Pancakes
by Courtney Miller
1 egg
1 cup milk
1 cup flour
1 tsp. baking powder
½ tsp. baking soda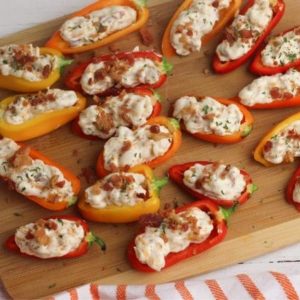 Cream Cheese Stuffed Mini Peppers
by Becky Nay
1 bag small sweet peppers
Block of cream cheese
Bacon, chicken, chipped beef or sausage
Shredded cheddar cheese
Directions: Mix ingredients, stuff peppers and bake 15 minutes at 400 degrees.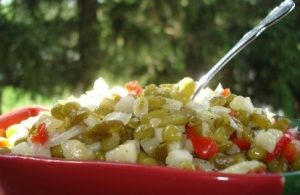 Joan Kelly's Marinated Vegetable Salad
by Dede Rader Kelly
1 15-ounce can tiny Le Sueur peas, drained
1 11-ounce can white Shoepeg corn, drained
1 15-ounce can French-style green beans, drained
1 2-ounce jar pimentos, chopped and drained
1 medium sweet onion, chopped
4-5 stalks celery, diced small
1 green pepper, diced (Optional)
1 diced cucumber
Marinade:
½ tsp. salt
½ tsp. black pepper
½ cup vegetable oil
½ cup water
1 cup vinegar
1 ½ cups sugar
Directions:
Combine canned and fresh vegetables in medium-sized bowl. In another bowl, combine marinade ingredients and heat in microwave until sugar is dissolved. Allow marinade to cool, then pour over vegetables. (Do not heat dressing.) This salad keeps in the refrigerator for several weeks.
Cream Cheese & Spinach Stuffed Manicotti
by Christin Cassidy Insani
1 box manicotti shells
2 blocks cream cheese
1 package frozen chopped spinach
Parmesan cheese
Salt
Pepper
Garlic
Favorite pasta sauce
Directions: Drain and squeeze all liquid out of chopped spinach. Add cream cheese (room temperature) and all other ingredients, blend well. Seasoning can vary based on personal preference.
Stuff al dente pasta with filling and top with favorite pasta sauce. If desired, top with mozzarella cheese.
Bake 20-30 minutes (until hot and cooked through) at 375 degrees.
Rumchatta
by Diane Gibson
1 can sweetened condensed milk
1 can evaporated milk
Cap of vanilla
Pinch of cinnamon
Pinch of nutmeg
1 ½ cup spiced rum
Directions: Blend all ingredients
Momma's Pineapple-Marachino Upside Down Cake
by Jack Lane
Melt 1/3 cup butter in heavy 10-inch iron skillet. Sprinkle ½ cup brown sugar evenly over butter. Arrange drained pineapple and cherry slices over butter/sugar coating. Arrange pineapples in circle on outside and one in middle. Leave room on outside for cake batter.
Cake batter:
2 eggs and gradually add 2/3 cup sugar, continue beating, add 6 tbl. pineapple juice from canned pineapple, continue beating, add 1 cup sifted flour or Softasilk flour, 1/3 tsp. baking powder, ¼ tsp. salt. Bake 45 minutes at 350 degrees.
Slow Cooker Chicken & Noodles
by Felicia Bryant
4 chicken breasts, cut in bite size pieces
2 cans cream of chicken soup
Box of chicken broth
1 stick butter
Directions: Mix together and cook 6-7 hours in slow cooker. Add bag of frozen noodles and cook 2 more hours on low, stirring occasionally.
Chicken or Pork Marinade
by Tammy Hefner
Even amounts:
Honey
Soy sauce
Sesame Oil
Dijon mustard
Desired amount of garlic, diced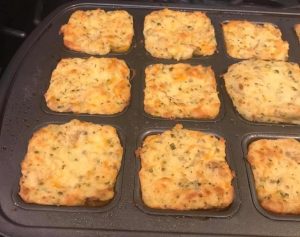 Leftover Mashed Potato Puffs
by Maria Skidmore
2 eggs
1/3 cup sour cream
2 tbl. parmesan
2 tbl. chopped chives
3 cups mashed potatoes
Salt and pepper to taste
Directions: Preheat oven to 400 degrees. In medium bowl, mix all ingredients Prep brownie pan with butter or cooking spray. Spoon mixture into each section, filling just to top or below. Bake 25-30 minutes until they pull away from sides and are golden brown. Remove from oven, cool five minutes in the pan. Turn them out and serve with sour cream.
Crockpot Crack Chicken
by Mary Knapp
2 pounds boneless skinless chicken thighs (trim off excess fat if desired)
1-ounce package ranch seasoning mix
16 ounces cream cheese
8 slices bacon (sliced, cooked and drained)
1 ½ cups shredded cheddar cheese
½ cup sliced green onions
Directions: Add chicken thighs to slow cooker. sprinkle over ranch seasoning mix. Place cream cheese on top of chicken. Cover and cook on low for 7 hours without opening lid during cooking time. Shred chicken with two forks, right in slow cooker. Stir cream cheese into shredded chicken and stir in bacon. Spread out into even layer. Sprinkle with cheese. Cover for 10 more minutes to allow cheese to melt. serve over ice and sprinkle with green onions.