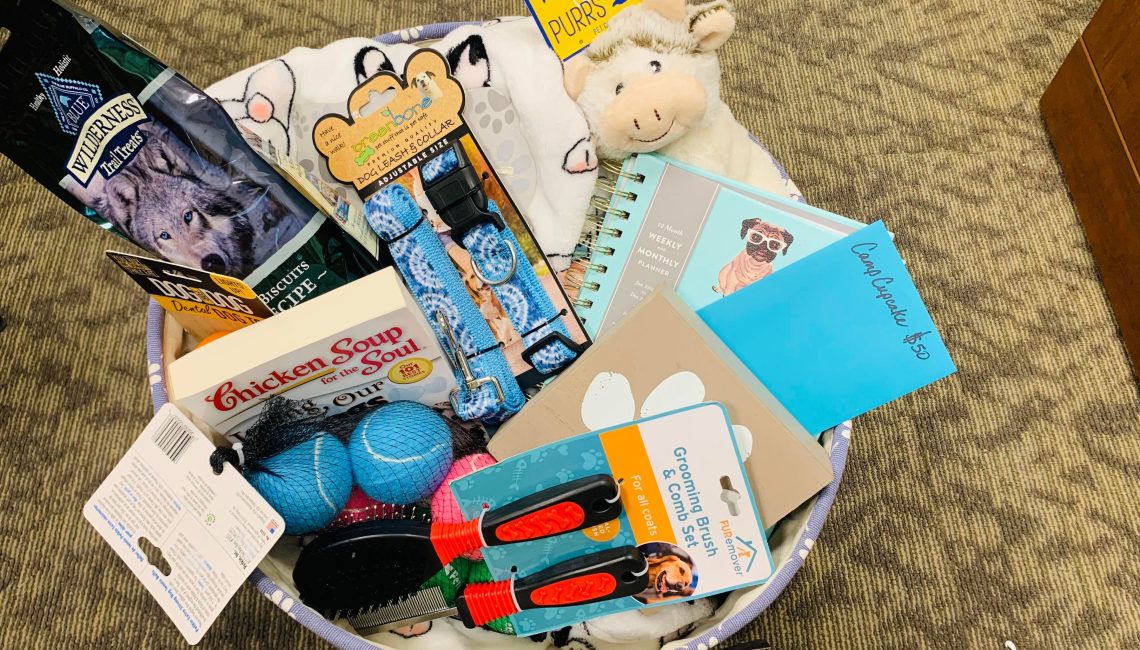 Thanks to our most generous Bridgeport businesses, what started out as a basket raffle has evolved into an online auction with hundreds of dollars in items and gift cards up for grabs. All proceeds of the auction – sponsored by the Greater Bridgeport Convention & Visitors Bureau – will benefit the Humane Society of Harrison County. According to Executive Director Frankie Dennison, the money will be put to good and timely use.
"Fundraisers, especially online, are so essential for us right now, especially due to COVID. Many of our in-person events have been canceled over the past two years and with our thrift store closing, we have an annual loss of revenue around $70,000," she said. "That is a huge hit and we are adding in as many smaller fundraisers we can."
All fundraising proceeds, Dennison said, is used for the animals at the shelter, including vaccinations, medications, spay/neuter and whatever else is needed.
"We also have to house them which means paying for utilities and insurance," she said.
So, if you want to help – and potentially win some amazing prizes – you can bid on auction items 
HERE
 at Charity Auctions Today.
A rundown of baskets featured is below:
Camp Cupcake Dog Lovers' Basket, donated by Camp Cupcake Dog Kennel: Huge paw-print canvas basket filled to the brim. Included is a Tiny Paws oversized plush throw (50×70 inches), Greenbone dog leash and collar (blue tie-dye print), Wags and Purrs plush pet toy (cow), Blue Wilderness Trail Treats, Dog for Dog Dental Dog Toy, Chicken Soup for the Soul "Loving Our Dogs," extra strong dog tennis balls by Petkin, FURemover grooming brush and comb set, 2022 weekly/monthly planner (dogs in sunglasses print), paw print (love) wooden sign, and a $50 gift certificate for Camp Cupcake.
Pawsitively Delish Dog Lovers' Basket, donated by Pawsitively Delish: A woven basket filled with "I Woof You" dog bowl, Spoiled Rotton Dog Treats jar, doggie-print pot holders (turquoise trim), Dogs Welcome wooden sign (dog house shape), WVU/paw print stemless wine glass, dog-themed dish towel, dog treat cookie cutters and a $20 Pawsitively Delish gift card.
Gift Card Extravaganza: $50 gift card to Meagher's Irish Pub, $50 gift card to Farm House Ice Cream,  $25 gift card to Brickside Bar & Grille, $30 gift certificate to Bridgeport Farmers Market, $10 gift card to Callunas Boutique, $20 gift card to Clean Juice, $20 gift card to Insight Astronomy, $25 gift certificate to Twin Oaks Restaurant, $15 gift card to Dairy Queen (Main Street), $25 gift card to Drifter Doughnuts Food Truck, $20 gift card to Bridgeport Running (off purchase of regularly-priced shoes), $50 gift certificate to LeRoy's Bakery, gift certificate for one dozen jumbo cookie variety at Sweet Events Bakery, gift certificate good for one dozen pepperoni rolls at Della's Deli (must pre-order), and two gift certificates to Dave's Famous T&L Hot Dogs (Main Street), each good for two value meals. Also included Meagher's Irish Pub T-shirt and Bridgeport Running T-Shirt (total package over $400 value).
Doggie Staycation Package: Pair of large ceramic "Eat" (feed me and tell me i'm pretty) and "Drink" (sip it like it's hot) bowls, donated by About You Monograms, cedar and lavender "doggo soap" donated by About You Monograms, "Doggie Walk Bags" (12-pack/yellow) and matching zip pouch, donated by About You Monograms, and courtesy of Grooming Angels pet grooming, a $40 gift certificate.
Personal Care Basket: Green Tea Jewelry earring and necklace set (made from certified sustainable wood, made in the USA), donated by ArtWorks, set of four watercolor note/greeting cards, donated by Market on Main, electric toothbrush donated by Rominger Dental, Emanate Essentials fig & honey coconut wax candle, donated by Callunas Boutique, cocoa rose sugar scrub, donated by Market on Main and house plant donated by Market on Main/Roaming Roots.
COMBINED WITH
Italian Cooking Basket, donated by Maria Skidmore/Tucillo's Pizza: Tucillo's Pizza Kit, Mama Mia's Red Pepper Explosion spice mix (2) and Maria's Meatball Mix, all tucked inside wire basket.
The auction will be open through 12 p.m. Friday, April 15. The Greater Bridgeport CVB thanks all businesses for their most generous donations.
"We enjoy finding creative ways to help support organizations in our community," said Executive Director Cassie Busdeker. "The Harrison County Humane Society helps so many animals and helps them find loving homes. We are very excited to be able to help."