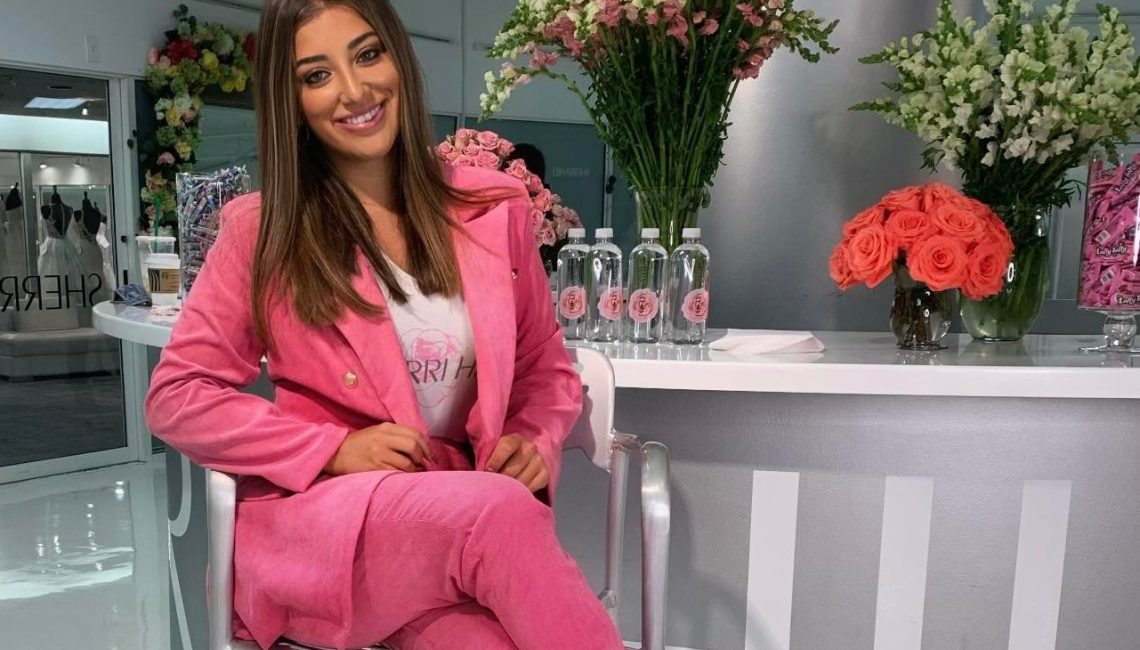 Once her mom's right-hand girl at Oliverio's Bridal, Prom and Pageant Boutique, Samantha Patsy now serves as sales representative for world-famous dress designer Sherri Hill at her Austin, Texas headquarters.
"Working as a sales rep has come very naturally for me considering I had traveled to market with my mom (Angela Patsy) as a buyer for her store since I was 10 years old," Patsy said. "Now, I am on the other side and have the opportunity to sell to stores – just like hers and much bigger – all over the country."
Patsy also works with Sherri Hill's high-end couture collection.
"When I was fairly new, I was asked to help work one of the trunk shows for a store and the first dress I sold was a $30,000 wedding gown," she said. "Since then, I have been working with all our couture accounts in addition to my own accounts. I spend a lot of time pulling dresses for their trunk shows. I always make sure to contact the store that's hosting, find out what kind of appointments they have, and then strategically pull the dresses that will ensure lots of sales for that store based off the information."
Aside from sales, during her first year with Sherri Hill, Patsy has traveled out of the country to work multiple photo shoots.
"I have worked with many stylists to send dresses to celebrities and influencers for music videos, award ceremonies, movies, etc. I traveled with Sherri to LA to meet models for fittings and have worked multiple fashion weeks in New York City," she said.
As much as she loves the traveling and glamorous aspects of her job, Patsy said her favorite part is working with a team – four sales reps one content creator – to review and choose pieces of each Sherri Hill collection.
"We get to voice our opinions on what we like – or what we would like to make changes to, not to mention, we have been an absolute powerhouse and have hit every sales goal together since day one," Patsy said.
The growth Patsy has experienced since starting with Sherri Hill has provided her with confidence and enabled her to help others grow to their fullest potential.
"I couldn't be more excited to continue on this path, take on more challenges, and work towards hitting higher goals," she said.
Patsy graduated in 2017 from West Virginia University, where she majored in Fashion Design and minored in Business. Quality education and professors who were tedious about detail resulted in a solid foundation for her career. Courses included draping, fashion figure design, textiles, and flat pattern design – the latter the most challenging, but ultimately her favorite.
"We would have to sketch our own designs, create a pattern on paper from scratch, cut out each piece of the garment and then sew it together. We were harshly graded on our sewing techniques and how well constructed our garments were, along with our measurements in our pattern making," Patsy said. "I will never forget being 1/16th of an inch off on one of my patterns and my professor gave me a grade cut and told me to start over. I threw a fit and walked out of the class. When I came back, she looked at me and said 'You're going to thank me for this. Just wait. You will see.'"
Upon completion of that project, Patsy's was the only one that had correctly-aligned seams. The professor made an example of her and her work. She is thankful for that experience, as well as an upbringing that enabled her to work closely with the fashion industry. During those impressionable years, Patsy always chose Sherri Hill dresses to wear to school homecomings and proms.
"During my senior year of high school, I got to design my dress with Sherri at market," she said.
She has certainly come full circle. She said she is often asked if she misses working for her mom and when she is returning home.
"I had it very good at home and I could not be more thankful to have family and friends that made it so hard to leave, but I could not pass up an opportunity to work for the best in the industry and with the best team," she said. "I know I will always have a place at home to go back to, but right now I am loving my second home in Austin, Texas."
Angela Patsy said she could not be prouder of her daughter.
"Sherri always told me that Samantha had a great eye," she said. "Now, she's living her best life."
Editor's Note: Samantha Patsy is pictured (top) with her mom Angela Patsy.