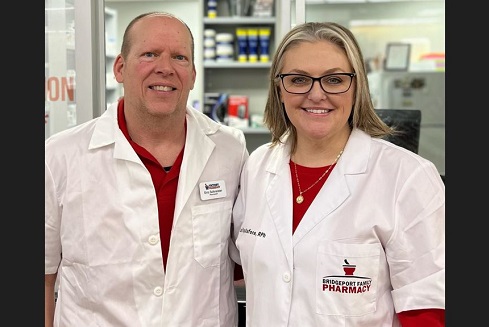 In June of 2020, Bridgeport Family Pharmacy owner Lori Spatafore moved her Charles Pointe-based business to Bridgeport Price Cutter. Now she is expanding her business, continuing to work with Price Cutter owner Tom Jamieson. Tuesday, Victory Pharmacy will open at the Adamston Price Cutter.
In the new business venture, Spatafore is partnering with pharmacist Eric Schneider, who was with Walgreens for a number of years and who has been working with Spatafore in recent months.
Going into business wasn't on Schneider's radar, he said. But the opportunity has come along, and he is grateful for it. After serving as pharmacist for Walgreens in downtown Bridgeport, Schneider worked in a corporate chain pharmacy, but he missed the smaller operation and a chance to connect more personally with his customers.
"It was my plan to retire from Walgreens, but that didn't work out. When I started working with Lori – who really helped me out – she suggested it might be time to go out on my own and that she would help me," he said. "I've been doing this for 33 years and I think it was time for a change … I want to get out there and give the best customer service I can and help people on the west end of Clarksburg with their needs."
Spatafore is also pleased with the opportunity. She was approached by Price Cutter some time ago to consider opening a second location. That didn't seem doable until she began working with Scheider.
"I'd rather do this with someone who has ownership in the store and will run it like it's supposed to be run," she said. "We want that personal service. We know our customers here by name and we want that same service offered in Adamston."
The name Victory Pharmacy seemed appropriate since Adamston is the home of the former Victory High School. The name is also a nod to the new Victory Elementary School, attended by many Adamston children.
Store hours will be the same at both locations: 9 a.m.-6 p.m. Monday through Friday and 9 a.m. to 1 p.m. Saturday. Spatafore and her husband Billy remain 100 percent owners of the Bridgeport store.
Though Victory Pharmacy opens Tuesday, Schneider said it is a soft opening and the store isn't yet equipped to accept all insurance plans or Medicaid, but he is working on finalizing those contracts.
Spatafore and Schneider are both alumni of Bridgeport High School. Spatafore graduated in 1993 and Schneider in 1982.