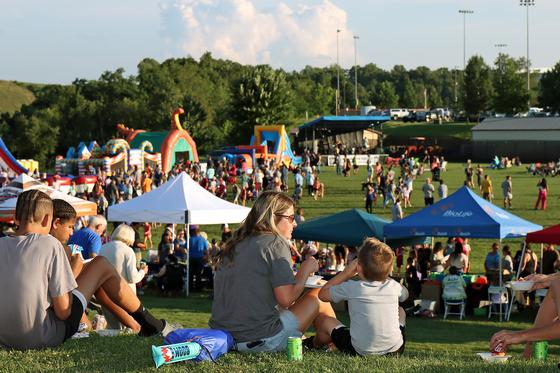 2023 marks the 40th anniversary of National Night Out. The goal is to bring law enforcement and members of the community together in a comfortable setting in order to better understand one another and know who it is that you may call on in a time of need.
Bridgeport's event is 6 p.m. Tuesday, Aug. 1 at The Bridge Sports Complex.
Crimson Reign will be performing, as will Lauren Starkey Garcia. There will be bounce houses, a dunk tank, the National Guard rock climbing wall, and a sizable slip-and-slide. There will also be a car cruise-in for those who want to enjoy classic cars on display.
The car cruise-in is new this year and it actually begins at 5 p.m. as the first event of the evening. Car enthusiasts will have reserved spots so they do not have to worry about finding a space. The first 100 participants will receive dash plaques.
There will be plenty of food, including pizza to be supplied by several vendors. There will also be Drifter Donuts, chicken, chips, Dippin' Dots, shaved ice, kettle corn, and various drinks.
One of the best parts, as always, is the finale. The event will officially conclude after a fireworks display, sponsored by Charles Pointe, takes place.
"Just bring a lawn chair, enjoy the music, have a bite to eat, and have a great time," said Bridgeport Police Chief Mark Rogers. "Along the way, we look forward to interacting with the crowd."
A list of sponsors for the event is as follows: Papa John's, Walgreens, Bridgeport Running, Sheetz, Champion Pharmacy, Leeson's Import Motors, East of Chicago Pizza, Harry Green, Jenkins Subaru, Great American Cookie Company, Sudsberry, Fat Angelo's, Johnstone Supply, NAPA, Holiday Inn Express, Rominger Dental, TGI Friday's, Medbrook Children's Charity, Hero's Haven Child Advocacy Center, Brian and Brittany Kemmerer, Mountain State Brewing Company, Price Cutter, Antero Resources, Steptoe & Johnson, Buffalo Wild Wings, Chick-fil-A, Walmart, Lowes, Longhorn Steakhouse, Crumbl Cookies, Alley 304, Fraternal Order of Eagles, O'Reilly Auto Parts, Chenoweth Ford, Bridgeport Storage, AutoZone, Glotfelty Tire Centers, City of Bridgeport, The Bridge, Charles Pointe, Minard's Spaghetti Inn, Twin Oaks, Winnie's, Wash Rite, Planet X VR Arcade, Artworks, HD Trucking, Fisher Auto Parts,  El Rey, Spinning Compass Photography, Auntie Anne's, Lodgeville Estates, 
Outback, Allegheny Industrial Supply, and Pepsi.
"Many more have pledged to assist as well," Rogers said. "Our apologies if we have left someone off of the list but know all of the groups are appreciated."
Rogers said dozens of sponsors have helped set the lineup. He said while the city sets up a generous budget, what puts Bridgeport's National Night Out over the top is the business community chipping in.
"We end up with an event well above the budgeted amount thanks to our sponsors," said Rogers. "It shows the business community supports law enforcement in our area and the entire community."
Rogers said many people look forward to National Night Out and his department hears from many people indicating it is their favorite city-sponsored event.
"That's good to hear because the city puts on a lot of really good events," he said.
Along with the Bridgeport Police, there will also be law enforcement agencies from the local, state, and federal levels represented. Prosecutors will also be on hand to interact.
And Rogers said there will be plenty of prizes given away to those on hand.
"We are going to be giving away a lot of stuff," said Rogers who said Ring Door Cameras will be given away as it provides a great prize and a security feature at the same time.