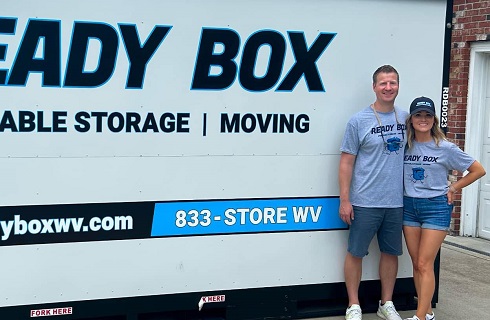 Ready Box Portable Storage puts a convenient spin on storage.
"We have portable storage pods that we bring to you – to your home or your business," said Marrissa Ashburn who owns the business with her husband Matt. On-site storage is perfect for anyone working on a home renovation project, cleaning up after smoke/fire/water damage or any other situation where they just need some extra space."
The Ashburns said they pride themselves on offering the most flexible and convenient moving and storage solutions in the area.
"It's certainly gaining some traction and we're excited about it," Ashburn said. "It's a new concept to people. They are used to have to rent storage, then go retrieve their things."
Located on AFG Road, east of Bridgeport on Route 50, Ready Box Portable Storage serves customers across North Central West Virginia. The company has been serving customers since late June, offering containers of two sizes: 8×16' and 8×20' for weekly or monthly rentals. Containers are dust, water and pest proof as well as wind resistant.
"My husband has an F350 with a 30-foot trailer and the containers fit on that," Ashburn said. "We have a remote-control delivery system. A mule moves the container and keeps it level the whole time, so people's belongings stay safe."
The company's tagline is "Storage Delivered."
"We really like the idea of that. It's clear and concise enough that people get the idea the storage comes to them," Ashburn said. "The containers are all steel and have never been used in commercial shipping or transportation."
Ready Box Portable Storage serves customers relocating their home or business within the service area.
"If customers are moving locally, we will customize a quote for them and make arrangements to drop the container off and then move their loaded container(s) when they're ready," Ashburn said. "We can take their loaded container directly to their new home, or store it at our facility until they're ready for it."
Ashburn said her business has found a niche serving area real estate agencies. Portable storage containers are ideal for storing furniture and housewares in homes that are being staged for potential buyers.
It was Matt Ashburn who had inspiration for the business idea.
"He's been thinking about it for eight or nine years. As he's traveled with different jobs, he's come across some similar companies and has kept the idea in his back pocket," Marrissa Ashburn said.
The Ashburns live in Bridgeport. Marrissa is a graduate of Robert C. Byrd High School and Matt is a graduate of Fairmont Senior High School. The couple looks forward to involving their business in community events. Look for the custom-wrapped F350.
For more information, visit the Ready Box Portable Storage Facebook page or 
readyboxwv.com
.