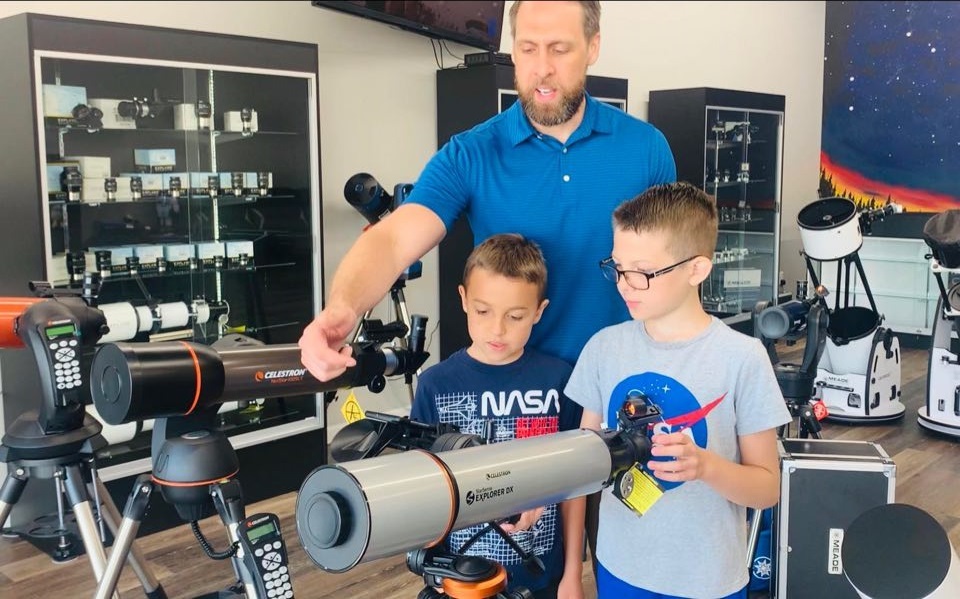 In January, the Bumgardner family shared their vision for Insight Astronomy, slated to open in early-Spring. Due to the COVID-19 pandemic, that opening was delayed, but the new business owners said what has resulted has far exceeded their expectations.
With a soft opening scheduled for June 20, the newest business at The Square offers true out-of-this-world opportunity.
The Bumgarners have created a unique place for families to gather, learn about and foster a hobby in space exploration. They have the equipment available for purchase and vast knowledge to pass along with it.
"I only carry products I've used in the past made by trusted vendors," said Jeremy Bumgardner, naming Meade, Celestron and Sky Watcher, among others.
From starter telescopes to large, collapsible computerized models, he said he can vouch for the quality of each item in the store. Some of the models are created to use with apps which can pinpoint the desired stars, planets or other night sky attractions, guiding the user in finding it.
"The camera on your phone will take a picture of the sky, then show you through the app the objects you can look at. It will give you a list of what's out on that particular night," Bumgardner said.  "The technology in the past five to 10 years has made it easy and accessible for people to get into astronomy without getting frustrated."
Despite the high-tech quality and crisp optics, the above-described models start at less than $100.
The largest of the telescopes provide epic views of deep space; the nebulae, galaxies and such. Computerized editions find them for you, Bumgardner said.
Various eye pieces and waterproof binoculars for hunters and bird watchers are among other products carried.
Insight Astronomy also features a spacious kids' center, where they can play with space-inspired toys.
"We have some programmable LEGOS so kids can build different robots, using apps on their phone or iPad to make them move and do different things," said Jeremy's sister Julie Bumgardner. "Then we have the Mars Rover, the Space Shuttle and the Transport and different little metal diecast spaceship shuttle replicas, as well as 4M Robots, Mars Dirt and Bristlebots."
The activity center is also stocked with a large selection of books – all relating to science and space.
"We have Twinkle books for babies and toddlers all the way up to more advanced science experiments for teenagers," she said.
Jeremy Bumgardner said he and his family wanted a place for people of all ages to come and grow their love for STEM – science, technology, engineering and math – and foster that learning experience.
Coffee will be available and shoppers are invited to bring in food and spend some quality time.
Even the atmosphere reflects the combined 30 years of space exploration experience of Jeremy and Julie Bumgardner, sister Janie SanJulian and their mother Jeri Booher.
The mural on the back wall – painted by local artist, family friend Jenny Starkey Reed – is a picture of the West Virginia nighttime sky on Aug. 12, 1974, Julie's birthdate. Reed was assisted by Laurianna SanJulian.
Also available for purchase are some of Jeremy Bumgardner's own space photography pieces.
Insight Astronomy will be open 10 a.m. through 4 p.m.
Editor's Note: Pictured are Jeremy Bumgardner, Julie Bumgardner, Jeri Booher, Janie SanJulian, Laurianna, Dominic and Anthony SanJulian.
"The Square" is located just off South Virginia Avenue in Bridgeport. The shopping plaza also features Dollar General, Fat Tire Cycle & Sport and Champion Pharmacy.
Read the Jan. 26 story about Insight Astronomy, which features the family history and interest in astronomy, 
HERE
.