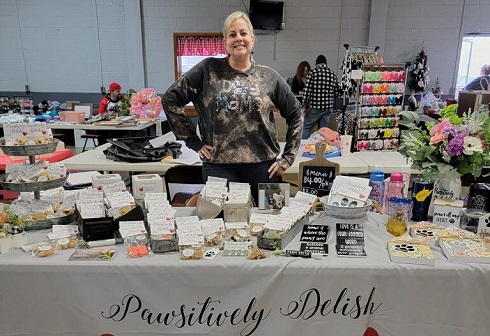 By day, Christina Murphy is an administrative assistant with the Harrison County Accessors Office. After arriving home, she becomes a gourmet chef – for dogs.
On any given evening, the Bridgeport resident bakes up dozens of dog cookies or muffins with flavors to please the palate of any pet.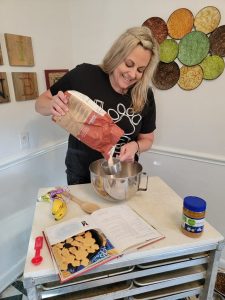 "Peanut butter is really popular, but I do a cheesy beef oat hard cookie that sells good, too," Murphy said. "I also do cheesy chicken, bacon cheddar, blueberry, and a grain-free sweet potato puff."
Mario, her 7-year-old terrier, and Ella, her 6-year-old bichon Shih Tzu, happily volunteer for taste testing. They stick pretty close during the baking process.
"Ella especially sits and watches me, waiting for me to drop or spill something," Murphy said.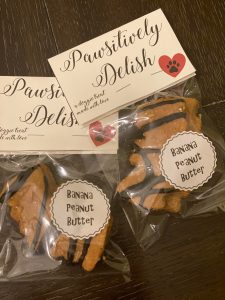 Pawsitively Delish dog treats can be purchased at Eastern Pet Supply in Bridgeport, Winnie's Attic in Philippi, or ordered through the business Facebook page. They are also available at various craft and vendor shows across West Virginia and bordering states.
"We have quite a few cool events coming up, including a large show at Mylan Park (Morgantown) this Saturday (April 2)," Murphy said. "I'm taking 40 Easter baskets – little green fairy baskets, each with four cookies, wrapped in cellophane and hot sealed."
Other upcoming events include the Strawberry Festival in Buckhannon, Almost Heaven Barbecue at Stonewall, and a wine festival in Wheeling.
The business involves a lot of baking, a lot of packaging, and a lot of travel. But Murphy said she thoroughly enjoys it all. It's actually hard to believe a simple idea evolved into such a popular product line. It all kind of started as a daydream on the beach.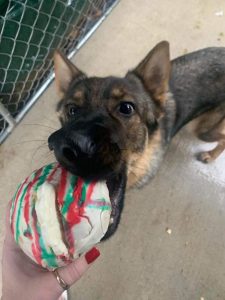 "I took my parents to Virginia Beach last summer and we were doing some thrift shopping at an indoor flea market. I saw a (pet treat) cookbook for $5 and I bought it. I got to thinking that we didn't have a local dog bakery in our area," she said. "The next day, I sat on the beach and decided what I wanted my labels to look like and how to package everything. I came home and started baking."
In July of 2021, Murphy took her first batch of hard treats to the Lost Creek Farmers Market. The other treat varieties came from requests from potential customers.
"I found out that hard treats aren't necessarily a good fit for older dogs without many teeth, so soft muffins were added. And not everyone has a super large dog, so it made sense to make a variety of sizes," she said. "Some dogs are allergic to peanut butter and some have chicken and grain sensitivities. So, we added grain-free and different flavors."
Pawsitively Delish also offers subscriptions to auto-delivery packages.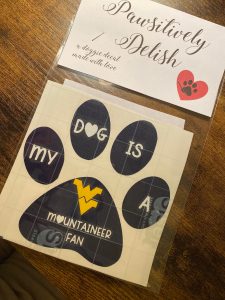 "Every other month, customers receive not only treats for their dogs, but also something for them," Murphy said. "That's what makes us stand out. I find another small business to work with. This month, for example, customers are getting necklaces from a vendor I met on the craft circuit."
Supporting other small businesses is very important to Murphy, who purchases supplies for her dog treats from locals.
"I bought 50 pounds of blueberries from Blueberry Ridge Farm (Fairmont) from July through December," Murphy said. "I buy honey from Mountaineer Bees in Shinnston, local flour from The Vegetable Garden in Morgantown, and local cornmeal from Farmers Markets when it's in season."
Not only has Murphy expanded her treat line, but also her overall product line.
"I got a Cricut for Christmas, so I've been making animal-themed merchandise – and there's a huge market for that," she said. "People love their pets above and beyond and want them to be a big part of their life. They love wine glasses, decals, cups or anything – that has a dog or cat on it."
Murphy, who began her venture as a licensed business owner, is now in the process of obtaining a license through the West Virginia Department of Agriculture.
Becoming a pet treat baker isn't the first time Murphy has reinvented herself. Prior to her job with the Harrison County Assessor's Office, she was a teacher with Harrison County Schools for 24 years.
"In November of 2019, I felt it was time to do something different," she said.
What's next?
"I'm planning the first Harrison County Pet Expo, taking place June 11 at the Harrison County Parks and Recreation Complex on Route 19," Murphy said.
All proceeds will benefit the Humane Society of Harrison County, which due to the COVID pandemic, has missed out on fundraisers and therefore funding.
The event will run from 10 a.m. through 4 p.m. and include prize drawings, training demos, pet adoptions, pet-related craft vendors, and pet-related business fair. Food trucks will be set up on-site and there will also be a drive for pet food, cat litter, and other needs of the Humane Society. Those who donate items will receive 10 free raffle tickets.
"Our goal is to try to raise $3,000 and I'm pretty sure we can reach that," Murphy said.
Look for more details on the Pet Expo coming on Connect-Bridgeport.