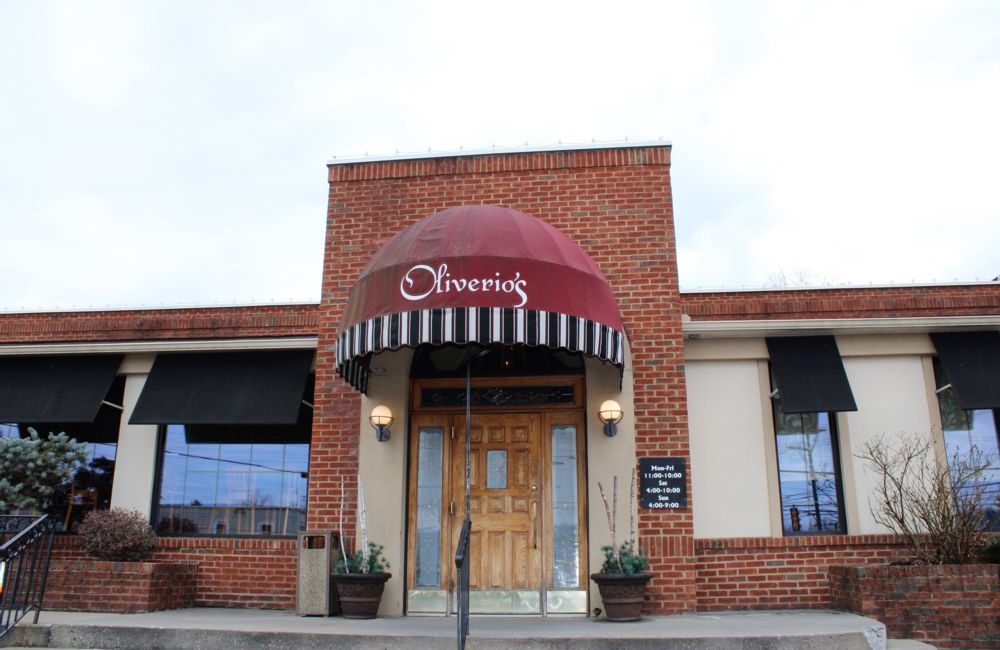 By Julie Perine on February 02, 2020
Visible from the East Main Street/Route 131 intersection, the twinkling white lights are inviting. As the evening progresses, the Oliverio's Ristorante parking lot fills up as patrons enter the familiar doors. Some – after taking a quick glance at the specials board – check in with the host or hostess to request a dinner table. Others opt for high-top seating in the roomy bar, just a step up from the restaurant entrance. The menu features an array of Italian-style entrees, appetizers, desserts, fine wines, signature breadsticks and bottomless salad.
Everyone seems to have their favorites, but a few items are requested quite often.
"People are crazy about our chicken alfredo and diablo – and although we aren't a steakhouse, we get a lot of compliments about our steaks," said Petrina Oliverio Bonamico, who shares management duties at the restaurant. "Our catering business is big, too. People love ordering pans of pasta that can feed 20 or 30 – at a pretty good price."
Then, of course, there are the angel hair crab balls, bruschetta, Italian wedding soup, pasta pomodoro, veal marsala, caprese salad and dozens of other items – all which pair perfectly with one of the restaurant's wine varieties, including the popular house cabernet.
The front room features Tuscany-inspired décor, all flooded with plenty of natural light. An adjoining dining room is just as elegant, but with perhaps more of an evening atmosphere, and yet another room features larger tables for family and friend gatherings.
"Oliverio's is one of my favorite restaurants because my family have been patrons for a long time and we are always welcomed with good service and even better food," said Erica Byrd, who is partial to the grilled chicken salad.
Those who meander the hallways are likely to catch a glimpse of a black and white picture featuring the couple who started it all more than a half century ago.
Shirley and the late Sonny Oliverio opened "Sonny's" in 1966, serving burgers, hotdogs and soft-serve ice cream in a building formerly occupied by the Dairy King.
City resident Les Filesky remembers "the walk-up ice cream and hotdog stand" well. It was one of only a few eateries in the city at the time and because it was owned by the Oliverio family, it was a well respected one.
Sonny's dad, Pete Oliverio, had remodeled the building to accommodate 23, then again later to seat 50. Italian specialties – inspired by Sonny's mom Angeline Oliverio of San Giovanni in Fiore, Italy – were added to the menu. Sonny, who had worked at Clarksburg's Minard's Spaghetti Inn, had plenty of experience making pizza and hoagies. Raised on Irish foods, Shirley said it took time and effort, but she learned to whip up foods quite pleasing to their patrons.
Bridgeport's Mike Hess, who frequented Sonny's when he was in junior high and high school, said he vividly recalls how much he loved the couple's cooking – and milkshakes. Mary Jo Duke Lanzy was an employee
In 1988, a kitchen fire resulted in extensive damage to the restaurant, which was subsequently renovated. Months later, with a brand-new look and atmosphere, the restaurant reopened as "Oliverio's Ristorante." A final remodeling took place in 1992. Sonny and Shirley's son, architect Pete Oliverio, designing the large front dining room, bar and entry. Seating was expanded to just over 200 and numerous items were added to both the lunch and dinner menus.
While running and developing their restaurant business, the Oliverios raised six children: Pete, Pat, Petrina (Bonamico), Phillip, Patti (Simon) and Polly (Washburn).
"We lived on top of Fifth Street in a big old house and after school, we'd walk to the restaurant to have a hotdog and hang around with Dad and Mom," Petrina Bonamico said. "It was just an extension of our family life. It's just who we are."
As the Oliverio children grew older, it was a given they would take an active part in the business.
"We all kind of dabbled in a few other things, but ultimately, most of us came back to work in the restaurant," Bonamico said.
The culinary labor of love has continued to bond a family, which now includes a third generation of restaurant workers.
Throughout the years, hundreds of employees – cooks, hosts and wait staff – have also contributed to making the restaurant successful. Oliverio's presently employs about 50 at the Bridgeport location.
The Oliverio family also operates Via Vento/The Social Tap, Almost Heaven Desserts and Coffee Shop and a full-service restaurant in Morgantown – Oliverio's on the Wharf.
So many locals have developed a soft spot for the restaurant, having celebrated weddings, graduations, anniversaries, birthdays and other special events at the historic Bridgeport restaurant. For some families, it has become a tradition.
"My parents had their first date at Sonny's in 1969. They will celebrate their golden anniversary this October," said Mandi DeMoss Carter. "My husband JR and I coincidentally had our first date at Oliverio's on the Wharf in Morgantow. We met while attending law school (at WVU). Oliverio's has always held a special place in our hearts! We not only held our rehearsal dinner at Bridgeport Oliverio's, but we also had our engagement photos taken at the Wharf location. Still, to this day we at eat or order Oliverio's almost every time we are at home in Bridgeport or in Morgantown. It just holds so much history and love for my family. And the quality of the food has never wavered."
Filesky said to him, Oliverio's signifies a great restaurant and a wonderful family who has worked hard to develop a beautiful eating establishment with wonderful food.
Several others wanted to share their testimonies with the longtime restaurant:
"I love Oliverio's Ristorante! I spent many days years ago working when it was Sonny's Restaurant," said Mary Jo Lanzy Duke. "I got paid $1.35 an hour plus tips! It is a great family restaurant with great food, great service and a warm and friendly atmosphere. I even did some babysitting for Shirley and Sonny. Oh those were some of the good ole days!" 
"I appreciate Oliverio's history, the décor and atmosphere and love their shrimp scampi," said Tammy Calef. "But another reason I keep going back is because of one of the waitresses, Judy Saoud. When my dad was alive, we went there often. After his stroke in 1996, his favorite thing to do was to go out to eat. He had lost his language and was paralyzed on his right side. Judy always accommodated my dad. She never pitied him. She nurtured a friendship that my dad cherished."
"I love Oliverio's, chicken parmesean for dinner and mesquite chicken sandwich for lunch," said Chris Cleghorn. "I still remember vividly when Sonny's burnt. It was the night I graduated (from Bridgeport High School)."
"I've been going there since like 1967 when it was Sonny's. They had great stacked steak sandwiches," said Pam Hotsinpiller.
"My family absolutely loves Oliverio's because we can have a delicious gourmet meal without having to pay gourmet prices," said Ashley Matheny Edgell. "For a family on a budget, we realized that we don't pay any more eating there than the local chain restaurants and get way better home-cooked meals. There is also such a variety of food choices that the kids can even always find food they love. We also love the waiters and waitresses. The staff always go above and beyond to ensure customer satisfaction."
"We love the atmosphere in the bar area. You always see people you know and the food is always good, no matter what you get," said Sarah Cann McNeely. "It's one of our favorite date nights! It feels like family, very old-school Italian vibe."
Bonamico said she is in search of photos from the eatery's early years. Please reach out to julie@connect-bridgeport.com.