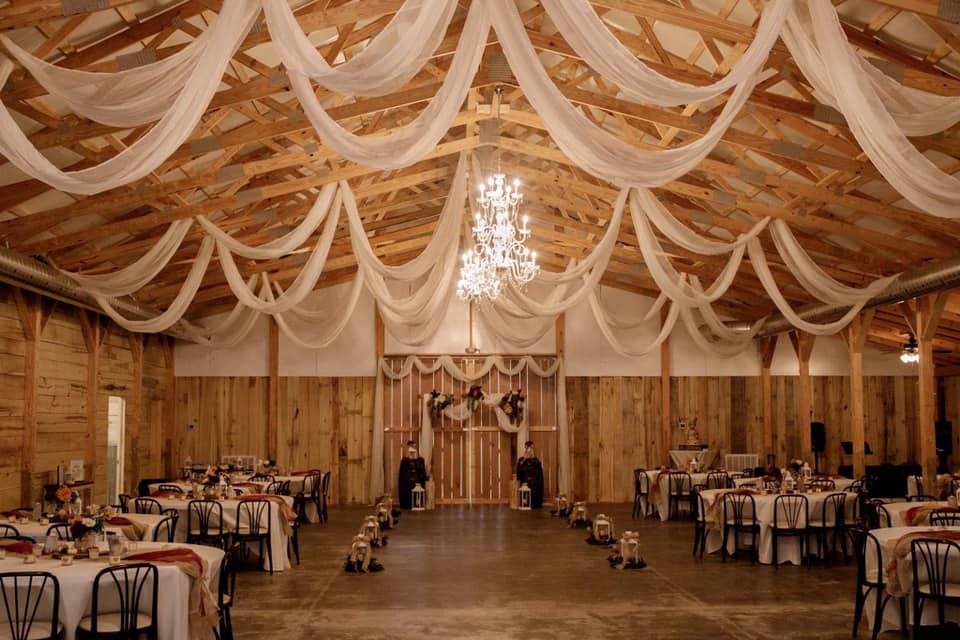 By Julie Perine on January 11, 2020
This article was originally posted on Connect Bridgeport. Click Here to view the article.
Along Saltwell Road is a new structure; a shabby-chic barn with cherry wood doors. Upon entering, one finds a spacious room featuring rustic look laced with elegance.
Almost Heaven Barn is the area's newest wedding and gathering venue. It was established by Bridgeport's Angela and Chad Holt and daughter Alexus Mays.
"It's always been a passion of mine to do this, but when my daughter got married almost two years ago, it was the icing on the cake," Angela Holt said. "I realized the hunt and demand to find a wedding venue that was close, affordable and gave you options."
At Almost Heaven Barn, brides have plenty of options.
"They can bring in food, have their wedding catered or we can take care of that," Holt said.
The same goes for décor, cakes, flowers and other elements of a wedding and/or reception.
"We have lots of décor, archways, props, etc. which brides are welcome to use as part of their package or we'll do it for them," Holt said. "We can serve as the wedding planner, too."
Features of Almost Heaven Barn include year-round climate control, kegerator, eight-foot bar and outdoor fire pit. In creating a venue that makes brides' dreams come true, the Holt family's work continues.
"Once spring comes, we'll work outside on landscaping; shrubs and greenery to make it pretty from the outside," Holt said. "We are building a pergola fence along the outside of the barn to give it some privacy and a picket fence along the creek bank in the back field."
Many weddings booked for 2020 and 20201 will feature an outdoor ceremony with indoor reception, but again, options are open.
In addition to the 4900-square-foot barn, the family owns a 2900-square foot brick home with fully equipped kitchen, bridal suite and groom suite.
The Holts purchased the property and broke ground in August. An Amish builder constructed the venue and it opened in late-December. Family members added their own touches to make the venue unique.
"My husband built the barn doors himself, stained and painted them," Holt said. "He wanted to use cherry for a different look and wow factor."
When prospective renters tour the facility, the wow factor is evident, she said.
"When we had our open house, we had brides from out of town who hadn't seen the transition and had no idea what to expect," Holt said. "When they walked in, it was all so surreal. One bride was crying. She said she never imagined it would look like that."
Those moments, Holt, said are so rewarding.
Though the family has aspired to establish a wedding venue for a couple years, they waited until their son  Connor Robe graduated from Bridgeport High School before making the move to new property. They currently live in a house on the backside of the property, which is located 10 miles of the Saltwell Exit.
"We probably looked at 100 properties and even had one under contract in Jane Lew," Holt said. "We loved this one because it's so close and convenient to hotels."
In addition to weddings, the venue also hosts bridal and baby showers, gradation parties, family reunions, birthday parties and other events.
The Shinnston Development Authority is hosting a Murder Mystery Dinner Theater show on Sat., Feb. 15. Featuring Vintage Theatre Company, the show will be accompanied with a buffet dinner. All proceeds will benefit the Christmas Light Display in Shinnston. Tickets are $30 and can be purchased at the Shinnston Municipal Building at 40 Main Street.
For more information about Almost Heaven Barn, visit its Facebook page or call 304-203-1948. There is still some wedding availability for 2020 and bookings have stretched into 2021, Holt said.