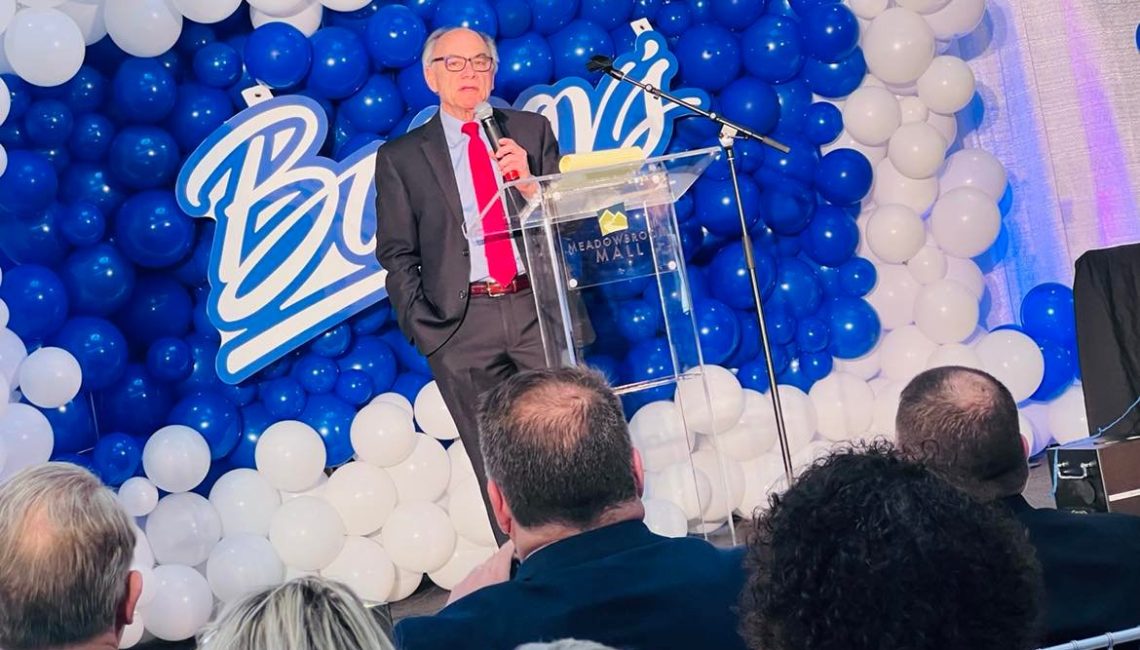 Boscov's department store carries everything from attire and accessories to window treatments and yard furniture. The massive family-owned retailer – headquartered in Reader, Pa. – is officially coming to Meadowbrook Mall this coming fall. The Bridgeport store is the company's 50th location and first in West Virginia.
The announcement – which was accompanied by falling confetti – was made at the mall's Center Court by Anthony Cafaro, Jr., co-president of the mall's parent company, who said Boscov's is the biggest and best new retailer to enter the mall.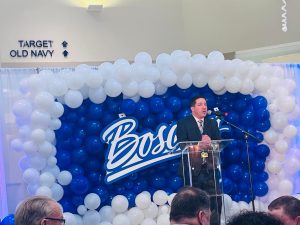 Jim Boscov, the third-generation company CEO, gave an overview of the store, adding that good prices and friendly customer service are among the store's attributes. He shared the chain's humble background, beginning with his grandfather immigrating from Russia to Reading, Pa. in 1914.
"He worked as a peddler with merchandise he had from family who owned a dry goods store. He established a two-week route around area farms, and he developed a reputation of being honorable and fair-priced," Boscov said. "The principals that served him well are the same principals that guarantee our success today."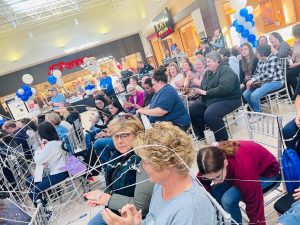 Boscov also said knowing the community's needs is a must and that the store will partner with local charities in their support.
The store – which will occupy 150,000 square feet at the former Sears space and neighboring storefronts – has a wide variety of inventory. Included is clothing for the entire family, shoes and purses, jewelry, cosmetics, bed and bath items, furniture, home goods, toys and even a candy counter.
Familiar accessory and fashion brands include Anne Klein, Calvin Klein, Dooney & Bourke, Nine West, Alfred Dunner, Architect, Hasting & Smith, NAPA Valley, Zac & Rachel, Ruby Rd. The store offers a full line of beauty products featuring brands like Clinique, Estee Lauder, Elizabeth Arden, Philosophy, Burberry, Dior, Juicy Couture, Michael Kors and Versace.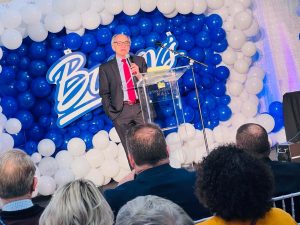 Mall shoppers were pleased to receive some swag – coupons and goody bags – by attending the announcement. Some voiced that they look forward to the store opening.
"I'm just excited because it's something new and different and it seems they are going to have a lot of good stuff," said Sue Moss of Clarksburg. "I've heard their prices are always good, too."
Bridgeport's Chelsea Shaw was impressed with a video that provided a virtual tour of a Boscov's store. She said she likes that there are so many departments and that she is most interested in the candy department and kitchen appliances.
Ron and Saundra Sumpter have shopped a handful of times at Boscov's in Cambridge, Ohio. They mentioned they liked purchasing attire there, including petit sizes which are sometimes hard to come by.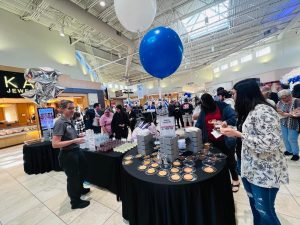 "I think the people here will really like the store," Saundra Sumpter said.
In a time when many malls are forced to close their doors, Cafaro said Meadowbrook Mall's success is attributable to a supportive community.
"We've been here for 40 years and have enjoyed being an extended member of the Bridgeport community. We're proud of the past 40 years and the next 40 are going to be even better," he said. "This community comes out. The stores that line these concourses are supported by each of you."
Indoor fireworks, balloons, music, and plenty of complimentary refreshments rounded out Wednesday's festivities.
Learn more about Boscov's at https://www.boscovs.com/