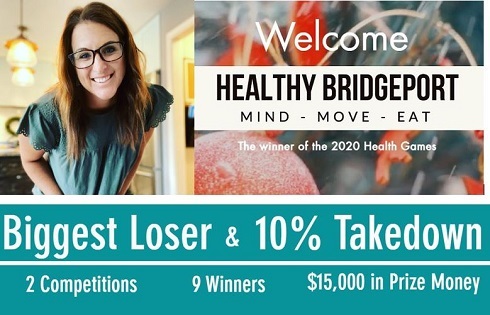 Jeri Booher was ready. She set out in 2021 for a journey to better health and Healthy Bridgeport's weight loss competitions came at an opportune time.
"I was anxious to get my healthy 2021 started and I need the accountability," she said. "With weekly weigh-ins, I will be more concentrated on my food intake and exercise. The bonus is the mind or devotional aspect of the program."
Both "The Biggest Loser" and "10% Takedown" challenges have kicked off and if you qualify, you are invited to take part. You will end the journey with a healthier body and perhaps a significant cash prize.
"Deep down, we all have a desire to be the healthiest versions of ourselves, but often struggle taking the first step. t was my hope that a competition like this would make taking that first step a little easier.," said Healthy Bridgeport team leader Abby Veigel. "Prize money of these amounts is a huge motivator, especially during these times that are tough for so many. The pandemic has taken a toll on so many lives physically, mentally, emotionally and financially, so why not give people a way improve all aspects of their lives."
The challenges were designed to give opportunity to individuals who have a wide range of weight to lose – and through friendly competition and prizes – provide all of them encouragement to achieve their health and weight loss goals.
"For someone who has only 10% of their body weight to lose, compared to maybe someone who has upwards of 20% or more, creating a fair competition would be more difficult, so we tried to capture both sets of individuals," she said.
"If you were to lose 20% of your current weight, you would have to fall within or above the healthy weight range on the BMI chart," she said. "If losing 20% of your body weight would cause you to fall below the healthy weight range, you are not eligible for this competition."
The same holds true for the 10% Takedown challenge. If losing 10% of your body weight would cause you to fall below the healthy weight range on the BMI chart, you are not eligible to enter.
Those entering the Biggest Loser competition are automatically eligible for prizes associated with the 10% Takedown challenge.
Throughout the weight loss journey, participants are ecouraged to use the free Healthy Bridgeport app which provides fitness and dietary tips & resources. On the app, users can also track goals and be eligible for monthly prizes. The 
Healthy Bridgeport Web site
 and Facebook page also offer resources for fitness, diet and various other health and wellness topics.
Through Jan. 22/23, weigh-ins will take place for both The Biggest Loser- for those wanting to lose at least 20% of their body weight – and the 10% Takedown – for people wanting to lose 10-20% of their body weight.
Weigh-ins for the 10% Takedown will take place at WV Fitness 24. Weigh-ins for The Biggest Loser will take place at Enliven Wellness. Those participating in The Biggest Loser will also receive a free body scan, courtesy of Enliven Wellness.
"The 3D scan tracks hundreds of measurements and provides automatic posture, body weight, body fat, muscle mass and balance assessments," Veigel said. "It will show you changes in your body that a scale alone could never provide, providing you a more complete picture."
Measurements are based on the surface of the body, she said. Wearing loose or baggy pants and shorts when scanning can adversely affect scan results. Wearing no clothes (sports bra) on the upper body is ideal; however, wearing tight fitting clothing will still produce good results.
Each participant must present a driver's licenses with home address indicated. A Bridgeport address is required to enter the competitions. A waiver must be signed by each participant. Weight will be kept confidential.
"Only the person weighing you in and a few other administrative members of Healthy Bridgeport will see your weight," Veigel said. "However, if you are one of the top 3 male or female winners of the Biggest Loser, we will reveal your starting and finishing weight at the awards ceremony."
Final weigh-ins and body scans will likely take place in May of 2021.
In the Biggest Loser competition, the top three males and top three females will each win cash: 1st place $2,500, 2nd place $2,000 and 3rd place $1,500.
In the 10% Takedown challenge, everyone who loses at least 10% of their body weight will be entered into a drawing for three chances to win $1,000.
Booher is striving for one of those prizes, but the cash would be a side perk to the main reward.
"By participating in Healthy Bridgeport, I have taken the first step to a healthier lifestyle. Therefore, I am a winner," she said.
Participants of at least 18 years of age can register for the challenges at
"After signing up, you will then need to head to the correct weigh in location (WV Fitness for 10% Takedown and Enliven Chiropractic for Biggest Loser) to complete your registration," Veigel said. "You are not registered until you have completed your weigh-in or body scan."
Weigh-ins/body scans will take place as follows:
THE BIGGEST LOSER – January 11 – 22 at the following times and location:
Body Scan at Enliven Chiropractic
Monday – Thursday 8 a.m.-5 p.m.
Friday 8 a.m. – 12 p.m.
10% TAKEDOWN – January 11 – 23 at the following times and location:
 Weigh-In – WV Fitness (behind Eat N Park)
Monday – Saturday 8 a.m.-8 p.m.
Those not entering the challenges, but who would like to get a body scan for the cost of $20, can call Enliven Wellness at 304-933-9355.