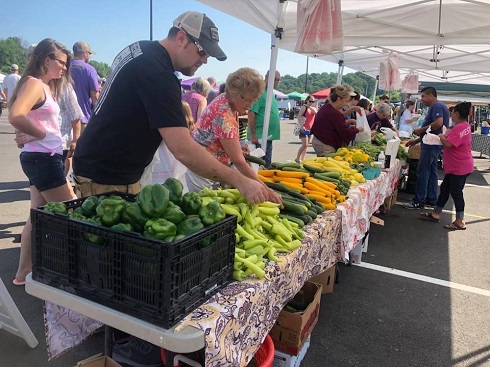 The Bridgeport Farmers Market has set the date for the opening of the outdoor market this year for Sunday, May 16.
"We normally open the market the weekend after Mother's Day (this year the holiday falls on Sunday, May 9)," Bridgeport Farmers Market President Amanda Workman said. "We've been doing that the last several years so that's something that people can kind of depend on and know that it's coming."
Even in 2020, the outdoor season began the outdoor season on the Sunday after Mother's Day, albeit with a somewhat different look thanks to COVID-19 restrictions.
The Market itself navigated through the pandemic, adjusting as the guidelines changed, for a successful outdoor season.
Although it's a new year, questions about where we will be in regard to COVID come May will likely linger throughout the rest of winter and into the spring. Workman says they will be ready for whatever comes their way.
"Our plan is that we will be outdoors on May 16 with a walk-thru market with our produce, our farmers, and our artisans," she said. "We are hoping to bring back a couple of brunch vendors. That's what the hope is. We will continue to monitor what's happening with the guidelines and we will make adjustments if we need to.
"We are moving forward with plans as if we ae going to be opening on May 16 with a fun market, outdoors with all of our vendors and customers there. But we will change things if we have to."
In the downtime between the 2020 outdoor season ending leading into preparation time for 2021, market organizers have been busy figuring out how to bring back a couple of components that were missing a year ago.
"We've thought about some things," Workman said. The main things were we weren't able to have as many artisans at our market this past year, we didn't have the food vendors that we normally have and we didn't have our POP Club for kids, so we are thinking about ways we can bring those back this summer and still do it in a safe way.
"Those are things we love about our market too so we are doing our best to make sure we can do those things this year and making plans to make those things happen. They aren't going to look like they did in 2019, probably. They are still going to be different, but we are hopeful that they are going to be there.
"We appreciate everybody's patience and understanding as we work through this and our number one priority is still the safety of our volunteers and our vendors and our customers."
With no indoor market this winter, many of the vendors associated with the Market went to a pre-order and drop off system to provide goods to their customers.
Workman said the feedback she has received from vendors about that has been positive and they will continue to offer that service up until the outdoor market opens on May 16. She encouraged those interested in that service to continue following the Market's social media outlets as they will provide updates as they receive them from the vendors.
Information on vendors and pre-orders can be found 
HERE
More information about the Farmers Market in general can be found at its 
website 
and/or its 
Facebook Page
.
Editor's Note: Top photo of fresh vegetables courtesy of the Farmer's Market Facebook Page. Bottom photo of customers at the outdoor market from the 2020 season by www.benqueenphotography.com