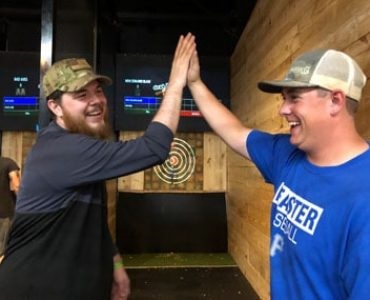 Imagine your favorite spirits and bar foods paired up with a unique activity. Soon you won't have to imagine because by month's end, the area's newest establishment – and first axe throwing venue – will open its doors on Keystone Drive along Route 50 East.

Owned by Billy Reep and Tyler Dodd, Hillbilly Hatchets is housed in the same building as Reep Graphics, just past the junction of Routes 50 and 76.

The interior may be rustic, but the recreation is cutting edge.

"It's a little different take on axe throwing," Reep said. "People rent lanes like they would for bowling or top golf and there's a high-tech computerized scoring system. The target is projected on the wall from a projector in the ceiling."

Throwers can choose from circle targets to those featuring zombies or a tic-tac-toe pattern. Reep stressed that the activity is very safe. The projected target lanes are equipped with anti-bounce borders and safety designed end grain targets for easy stick.

Reep said he and Dodd – who happens to be his nephew – have worked closely with a business owner from Texas who has established several such bars across the country. Both had visited axe throwing venues, including a privately-owned one in Morgantown.

The college town is ideal for the venue as it caters to the young adult demographic. But the Hillbilly Hatchet partners think Bridgeport is likewise a good city for the business venture.

"We kind of anticipate that with the new indoor recreation center coming, a lot of people will be coming to town and looking for weekend entertainment options for families," Reep said.

Kids as young as 8 will be permitted to take part in the main recreation attraction and there will be age-specific options for the youngest visitors.

"We can modify lanes for kids to throw Nerf hatchets and Ninja Stars. Kids seem to like that," he said.

That adaptation makes Hillbilly Hatchets ideal for not only bachelor parties, corporate events and team building, but also children's birthday parties.

Wine, beer and cocktails will be available for purchase. The food options haven't been set in stone, but there will be pizzas and other bar-type foods on the menu.

Upon entering, patrons will encounter a rustic atmosphere featuring barnwood and rustic metals.

The décor also has a local flavor.

"My friend Mike Tomes has a farm and he was tearing down a couple of old sheds and let us have some of the barnwood. It turned out really great," Reep said.

There are eight lanes for axe throwing. Reservations can be made now by visiting hillbillyhatchets.com. Gift certificates are also available for purchase.

"We encourage people to book their lanes online prior to coming out," Reep said. "You can book and pay there, making your visit seamless."

The whole idea came about several months ago when Dodd asked Reep if he had ever visited an axe throwing bar. Both agreed the activity is a lot of fun and ultimately decided that since the batting tunnels weren't being used, that perhaps the form of recreation would be a good fit for that portion of Reep's building.

Ironically, it was baseball that provided some of the inspiration.

"We did travel baseball for years and it's something as a group that we always sought out when we would get to a town – something fun to do," Reep said.

The actual renovation and build-out began in September. There are eight throwing lanes, each which accommodates up to six throwers.

"We've spent a lot of time on it – and we've really enjoyed it," Reep said.

With a target opening time of late-January or early-February, Hillbilly Hatchets will be open evenings and weekends, with times yet to be determined. There will likely be student discounts, weekday league nights and long weekend hours.

Stay up to date at hillbillyhatchets.com.