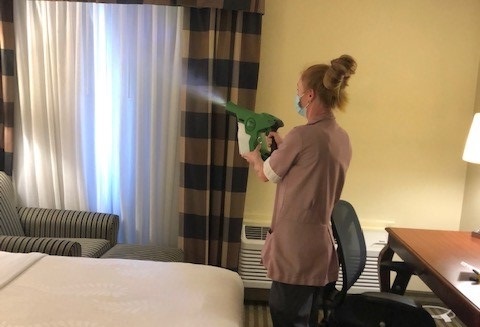 There's been a lot of changes at Best Western Plus Inn. The latest is the addition of electrostatic sanitize sprayers.
It's always been the hotel's mission to keep its guests comfortable and safe. With the onset of the COVID-19 pandemic, that mission has included some new measures.
"Right after the pandemic hit, we began working with the CDC (Centers for Disease Control and Prevention) and OSHA (Occupational Safety and Health Administration) – having conference calls and making sure everything we could do was in place," said Connie Johnson, Best Western general manager.
It started with the front desk, the installation of plexiglass and marking the floor for six-feet social distancing. Unless in an office alone, all hotel employees wear masks, Johnson said.
Best Western is also utilizing a unique sanitizer pump in the lobby, pedal operated, rather than hand pumping.
Guest rooms were cleared of paper items such as directories and instructions, as well as throw pillows and other decorative items. Once a guest checks out, another guest does not enter that room for at least 24 hours.
"The room is completely stripped, and everything gets cleaned and changed," Johnson said.
That's where the electrostatic sprayers come in, serving as an efficient way to disperse COVID-killing chemicals.
"(Members of our cleaning staff) go into the room, starting with the curtains and chairs and spraying everything as they back out of the room," Johnson said. "We also use the sprayers in the lobby, restaurant and banquet rooms. You can never be too careful. We will continue to do this as long as we need to."
Guests who stay multiple days can opt to have their room sanitized daily or request no additional cleaning; just delivery of fresh towels.
Upon guest check-out, room key cards are placed in a box at the front desk and at day's end, keys are properly sanitized and reprogrammed.
The hotel has opened its outdoor pool for guests, but again has implemented plenty of preventive measures by working with the Harrison County Health Department.
"With ball teams coming in, it's a good selling point because we're the only hotel in the area with an outdoor pool," Johnson said.  "Only 24 people can be in the pool at one time and before opening every day, we complete full maintenance on all chairs and surfaces. We also have hand sanitizer there too, as well as Clorox wipes."
As have all hotels, Best Western has encountered so many changes since the pandemic began.
"We never shut down. The government allowed us to stay open because they considered us an essential business," Johnson said. "We were open for anybody on the front lines. We had to sign up for and agree we would take doctors, nurses and anybody who felt they needed to be quarantined."
As one section of the hotel could be closed off, the facility was ideal for that, although very few individuals took advantage of it.
The hotel's in-house restaurant, however, did temporarily close. Rather than a breakfast buffet, guests were provided grab-and-go sack breakfasts, which went over very well.
Generally, business began picking up about three weeks ago as individuals began traveling and then ball tournaments resumed, Johnson said.
It will, however, be sometime before things get back to "normal."
"We were very disappointed about the cancellation of the (Atlantic Coast) Pipeline (construction)," Johnson said. "That might have been our saving grace. West Virginia is not a destination area, so we were hoping the pipeline would
open soon and we would get busy again."
The pandemic has been responsible for the cancellation of wedding receptions and banquets previously booked at the hotel. Hopefully, those types of events will return this fall, Johnson said.
"Again, we don't know. It's a day by day thing," she said. "The world is so different now."
Best Western Plus Inn is located on Lodgeville Road, accessible from Route 50 West or Johnson Avenue.