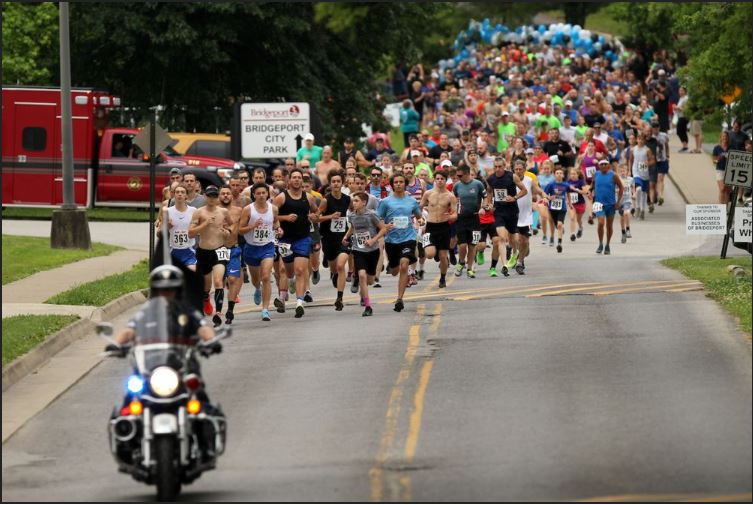 The shotgun start is at 8:30 a.m. Within minutes, the first of runners cross the finish line and others follow suit for the next hour or so. There is music, activity and celebration; congratulatory hugs and awards. By 10:30 a.m., the hundreds of people gathered for the annual Derek Hotsinpiller Fallen Stars 5K are all gone from Bridgeport City Park.
For those few hours of activity and the dollars raised for the Jim and Derek Hotsinpiller Memorial Scholarship, Ashley Hotsinpiller works year-round. Even before one race begins, the wheels are in motion for the next year's event.
Prior to the 2019 race, she told me she and her team were already planning the 10th anniversary race, set for June 13, 2020.
"It's a lofty goal, but we hope to get 1,000 participants involved," Ashley had said.
You can hear the passion in her voice when she talks about the avid runners, the families, the members of law enforcement who will run and walk for a common goal. It thrills her to think about the volunteers stationed throughout the course offering water, the town's people playing music and cheering the runners on and the children along the route getting up with the sun to decorate the course with chalk greetings.
"There really are no words to describe what it all means to me," Ashley said.
Three months out from the 10th anniversary race, she hopes those who believe in the event – both locally and around the world – are marking their calendars.
Though she and her team hope to see 1,000 individuals lined up June 13 for that shotgun start, Ashley invites competitive runners and leisure walkers alike to participate from wherever they are.
A couple years ago, the Fallen Stars 5K launched the virtual race. Event supporters who were traveling on race weekend checked in from their vacation destinations. Some who had never run the 5K did so from other states and even other countries.
"There's no financial commitment to sign up for the virtual race," Ashley said. "Just tell us where you are running from. Sign up and say you're going to do it."
Wendy Preskorn, who hasn't missed a race yet, will be running in Europe this year.
"She's going to run a loop in Germany, actually close to Cologne where the Hotsinpiller family is from," Ashley said. "She was upset she was going to miss it and I told her that was one of the best places where he could run it!"
Rachael Ashby has run the 5K from the Keesler Air Force Base in Biloxi, Mississippi. This year, she will participate from New Smyrna Beach, Fla.
"I'm a member of the Air Force Reserves and I never know where I'm going to be stationed or training," she said.
Rachael personally knew U.S. Deputy Marshal Derek Hotsinpiller. She remembers the day he received a fatal gunshot wound while serving a warrant. As a tribute to Derek, she said she is honored to run in the 5K every year.
"It was such a shocking tragedy and I love participating in an event that is a reminder of who he was," she said. "I love the fact that everybody in the community comes together for this and that he is never forgotten. It is wonderful."
It's that deep connection that fuels Ashley's fire for the race. She is married to Derek's brother Dustin, also a U.S. Deputy Marshal.
Following Derek's Feb. 6, 2011 death, it was mentioned that he had been so adamant about starting a memorial scholarship in honor of his dad, Jim Hotsinpiller who died in 2001 while serving as lieutenant of the Bridgeport Police force.
"My mind started processing how I could step into action. I just had to do it," Ashley said. "It was a matter of how we were going to fund it."
Derek and Dustin, as well as their Uncle Terry Hotsinpiller, all ran 5K events.
"That just seemed like the way to do it," Ashley said. "We thought we'd do a race and see how it went. The first year, it was a knockout success and it has continued to grow."
The goal, she said, is to continue to improve upon the event and offer something for everyone, so they will return and bring others with them.
It's about Derek, but it's also about police officers throughout the city, region, country and world.
"It is to honor all law enforcement. It is about love within our community and it really just all lights me up," she said. "This is my baby – and I'll never forget how it came about."
Sign up for the 10th Anniversary Derek Hotsinpiller Fallen Stars 5K 
HERE
. Tell others about it – wherever they may be.