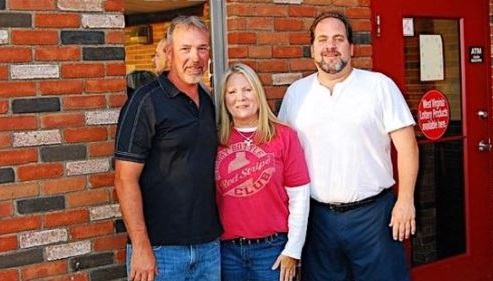 Nearly a decade ago, three locals aspired to establish a quality sports bar, one at which folks passing by would want to stop and hang out with locals.
It has taken much hard work – and years of physical improvements – but Brickside Bar & Grille has become a favored local hot spot.
A sports bar it is. Seating 400-plus – 200 which can be accommodated on the partially-enclosed deck – Brickside is home to a massive full bar and 28 TVs. There's not a seat in the house where patrons can't get a good view of whatever sporting event is being broadcast.
But it's not just sports which draw people to the Lodgeville Road restaurant. Brickside hosts nightly entertainment opportunities, from trivia and karaoke to live music and comedy nights.
As for food, the bar & grille is certainly known for its wings, hoagies, nachos, IPAs and ales, but it also specializes in quality entrees, including steak, chicken and ribs, as well as a full line of lunchtime options.
It all started in 2010, when USA Steak Buffet – owned by O'Mara Enterprises – was preparing to close its doors. Son and daughter of one of the O'Mara brothers – Patrick O'Mara and Mary (O'Mara) Powers, respectively – joined forces with Rob Davis, with whom O'Mara had worked some concession and catering jobs.
That's where the sports bar dream came in. Within days after the trio voiced a plan, it was in action. After operating as USA Steak Buffet for about six months, the place of business converted to Brickside and the physical transformation began.
"When we opened, we were probably standing room 70 people with the big front room and the banquet room. We remodeled the banquet room, tore out the buffet and remodeled it," Davis said.
Each year thereafter, the owners have completed an improvement project. One of the most recent was completion of an outdoor deck with an enclosed stage. Many nights, it's rocking, Davis said. But every night, there are events which draw regulars.
"Every Tuesday, we do trivia and on Wednesday, we do karaoke," Davis said. "On Thursday, we have open mic with a full band. Friday we usually have acoustic duos and Saturday nights we have full bands."
Those who frequent the stage include Crimson Reign, Triple Crowns and Greg Harrison. This summer, Brickside will welcome Bridgeport native and Nashville entertainer George Shingleton and his band. Also expected to make an appearance is Madison Douglas, a former local who is now based in LA.
Sunday is locals day, featuring dollar draft beer and sports.
In March, Brickside will host the Bastard Bearded Irishmen on March 15 and comedian EJ Edmonds will be featured March 20 for the restaurant's second comedy night.
"The Bastard Bearded Irishmen are out of Pittsburgh. They play folk music and have a really big following," Davis said. "We held our first comedy night with EJ last month and it sold out two weeks prior to the event."
Offering new forms of entertainment and improving the establishment physically are a continuation of that original dream: Making Brickside appealing to both loyal and new customers.
Though O'Mara still frequents Brickside and Powers is an employee, Davis now owns the bar and grille exclusively. He said it has taken the effort and specialty of all three of them to make the place a success.
On Dec. 11, the sports bar will celebrate its 10th anniversary. You can be sure Davis has something up his sleeve to mark the occasion.
Stay up to date on menu choices and entertainment at Brickside Bar & Grille's 
Facebook page
 and 
Web site
.