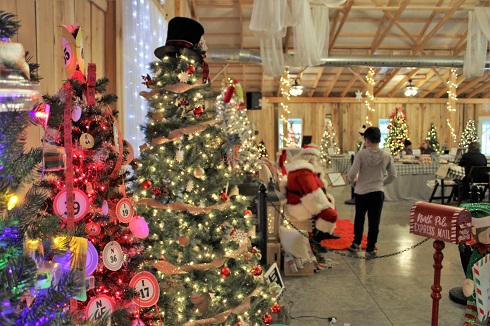 The second annual Tree Festival will delight guests at Almost Heaven Barn Dec. 3 and 4. More than 25 decorated trees – including a $1,000 cash tree – will be won by lucky participants. With outdoor games, a hot cocoa bar, ornament and cookie decorating, visits with Santa and Mrs. Claus, letters to Santa, a craft show and more, the event is sure to bring a big dose of holiday spirit. Almost Heaven Barn owner and event organizer Angela Holt is excited to bring the event back for 2022.
"Our first year went better than we could have ever imagined, so much that we are hoping to host this event every year to come," she said. "Our theme is Candy Land this year and the area for our Santa pictures will be decorated accordingly."
Photos with Santa will be available 11:30 a.m. through 4 p.m. both days. Images will be taken by Image Studios and Entertainment and will cost $20, delivered via email within 72 hours.
A portion of proceeds will again benefit Wings of Hope.
"The Wings of Hope charity was picked due to us having close loved ones that have directly been affected and have benefited from this charity. We feel as if this specific charity is important due to the amount of people that have loved ones affected by cancer daily."
This year, there are even more outdoor games for kids, a tattoo bar and candy bar, as well as a few additional craft vendors.
Admission is $10 with kids age 12 and under admitted free. Raffle tickets can be purchased for $1 each or $20 for 25. Tickets can be used to win raffles for various decorated trees and gift baskets. All trees and baskets have been donated.
'
Those donating trees include Wings of Hope, 10-9 Entertainment, Pawsitively Delish WV, Cardinal Tax Service, Warriors Chapel, B3 Boutique, Chenoweth Ford, Just Us in Duck, Golden Impressions Boutique, Farmington Main Street Methodist Church, Stonerise Nursing Home, Hammer and Stain, Muriales, SRC Construction, Country Road Security, Minigh Dentistry, East of Chicago Pizza, Necco Fostering, Midway Motors, Huntington Bank White Oak Branch, State Farm of Fairmont Jay Puccio, Samantha Saunders and Family.
Baskets are donated by Judy Williams-Farmasi, Pool Queen, How Sweet it Is/Emily Howe, The Tattered Daisy/Sandy Porter, Scentsy/Tracy Thompson, Vincent's Lumber, Devon Hager, A Dazzling Door, Wild and Wonderful Creations, Cassandra Freshour, and Rehba Sweet Treats.
Holt said Almost Heaven Barn is fortunate to host the event.
"We are hoping this event is something kids and families look forward to and can continue to do for years to come," she said. "We are so grateful to members of the local community who are so generous with their donations and help. We cannot wait to see everyone this year again!"
Almost Heaven Barn is a wedding, entertainment and performance venue located at 63 Jadewood Drive (off Saltwell Road) in Shinnston.