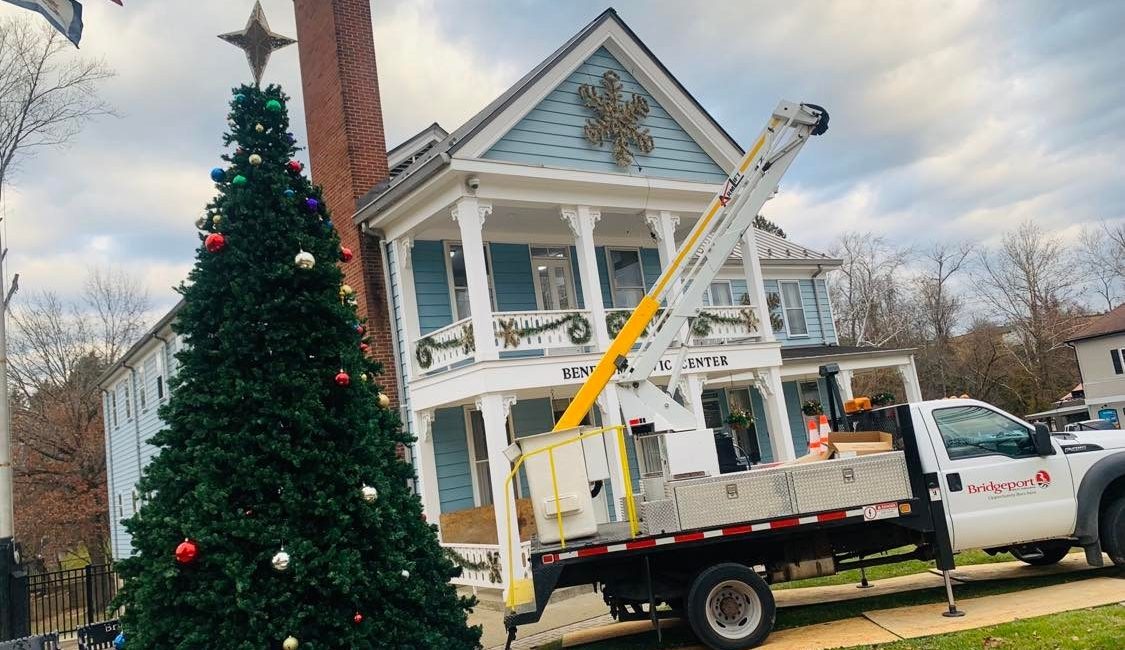 UPDATE: See photos of Light Up Night 2021
HERE
.
After months of planning and much anticipation, Light Up Night is back in its traditional format for 2021. The main attraction – the lighting of the Christmas tree at Benedum Civic Center – will take place at approximately 7:20 p.m. today, Thursday, following a brief ceremony from the Civic Center balcony.
From 6-8 p.m., about 50 ABB member businesses will line Main Street, housed in lighted pop-up tents and dispensing free holiday goodies and gifts.
While making their way across Main Street, attendees will be entertained by street performers including Nat Frederick, Jason Young, Ben DeFazio, Greg Harrison and Josh Oldaker.
"It's so nice walking downtown with no traffic and running into friends and neighbors – seeing them in person, not texting or calling them," said Phil Dye, former longtime Bridgeport firefighter and resident of Bridgeport. "It brings everyone together – longtime residents and newcomers. You recognize faces. It's that smalltown feel."
Via public nomination and committee voting, Dye was chosen to do the honors of lighting the tree this year. He said he was both deeply humbled and happy to learn of the honor. He doesn't feel he's done anything special to earn it; that our city is full of good people doing good things for each other every day. And, yes, that makes our town very special, and Dye is proud to be part of it.
Prior to the tree lighting – beginning at about 6:40 p.m. – the Bridgeport High School Jazz Band will play on the stage across from Benedum Civic Center. Event sponsors will be recognized and winners of this year's scarecrow contest will be awarded traveling plaques and the Bridgeport High School Dance Line will perform
At 7 p.m., ABB President Doug Marquette will providing a welcome, followed by the Pledge of Allegience led by Boy Scout Troop 40. and Pastor Josh Sowards of Simpson Creek Baptist Church will ask a blessing upon the community and event. Then the combined choirs of Simpson, Johnson and Heritage Christian elementary schools will perform and Mayor Andy Lang will share a few words. Dye will then be introduced and the countdown will commence. As the tree is lit, the WVU Mountaineer will sound his musket and fireworks will fill the skies.
Santa and Mrs.Claus will be on hand for the entire event, meeting and greeting children following the tree lighting.
New to this year's Light Up Night is a custom frame purchased by Bridgeport Parks and Recreation. Once the fireworks are over, the frame will be set up and families are invited to utilize the giant frame to take pictures in front of the newly-lit tree. The frame will be available during days following Light Up Night. When posting those photos on social media, folks are encouraged to utilize the hashtag #BportWVCmasTree.
In addition to business vendors, there will be some non-profit organizations set up, offering information about their causes. The evening will also feature a live nativity scene, courtesy of Middleville Baptist Church. That display will take place between the G.A.L. Land Company building and Murray, Queen & Co.
Frederick will perform in the vicinity of Winnie's, where Dan Riggs will be hosting his traditional bonfire. Young will sing at the G.A.L. building, DeFazio between Expressions and About You Monograms, Oldaker at Bridgeport Fire Department and Harrison at My Little Cupcake.
At the corner of Main and Center streets, dancers from Studio 9 Dance Academy will entertain the crowd.
ABB members taking part in this year's Light Up Night include Jamie Day DDS, K&M Service Co., KRB Properties, Kaufman Realty & Auction, Landmark Realty, Main Street Fitness, Marquette Insurance, Harrison County WIC, McNeely Group, MPB, Mountain River Physical Therapy, Mountain State Real Estate, Murray, Queen & Co., My Little Cupcake, NFM Lending, Old Colony Realty, One Stop Tax & Business, Oliverio's Florist, Dairy Queen, Dave's Famous T&L Hotdogs, Della's Deli, Duke Rental Properties, Dynamic Physical Therapy, Enliven Chiropractic, Expressions, Fairmont Federal Credit Union, Ford Funeral Home, Freedom Bank, G.A.L. Land Company, Greer Law, Halstead Insurance, Harmony at White Oaks, Hearing Solutions Services, Homefinders Plus, Insight Astronomy, J. Robey Law PLLC, Peak Wealth Management, Pierpont Aviation, Dan Riggs Garage & Towing, Riversong Spa, Rominger Dental, Russell H. Francis CPA, Senior Audiology, Steptoe & Johnson, Scott Smith State Farm, Thrasher, Travis Miller Attorney at Law, United Security Agency, Venture Real Estate, WDTV, W. Larew's Wrecker Service, WV Junior College and Winnie's.
This year's financial sponsors are About You Monograms, Bonamico Construction, Greater Bridgeport Convention & Visitors Bureau, Cava & Banko, G.A.L. Land Company, Hearing Solutions Services, Inc., Kaufman Realty & Auction, Landmark Realty Services, McNeely Realty Group, Oliverio's Florist, Rominger Dental, Steptoe & Johnson, Thrasher Engineering, Venture Real Estate and WDTV.
This year marks the 17th Annual Light Up Night. Through the years, Dye said he has attended many times. He looks forward to flipping the light switch on the tree this year and helping to usher in the holiday season and wishes his fellow Bridgeport residents a most joyous Christmas.
Organizers share the following COVID event policy: It is the ABB's desire that everyone in attendance at Light Up Night take the personal precautions that they deem necessary as individuals to protect themselves and their family.