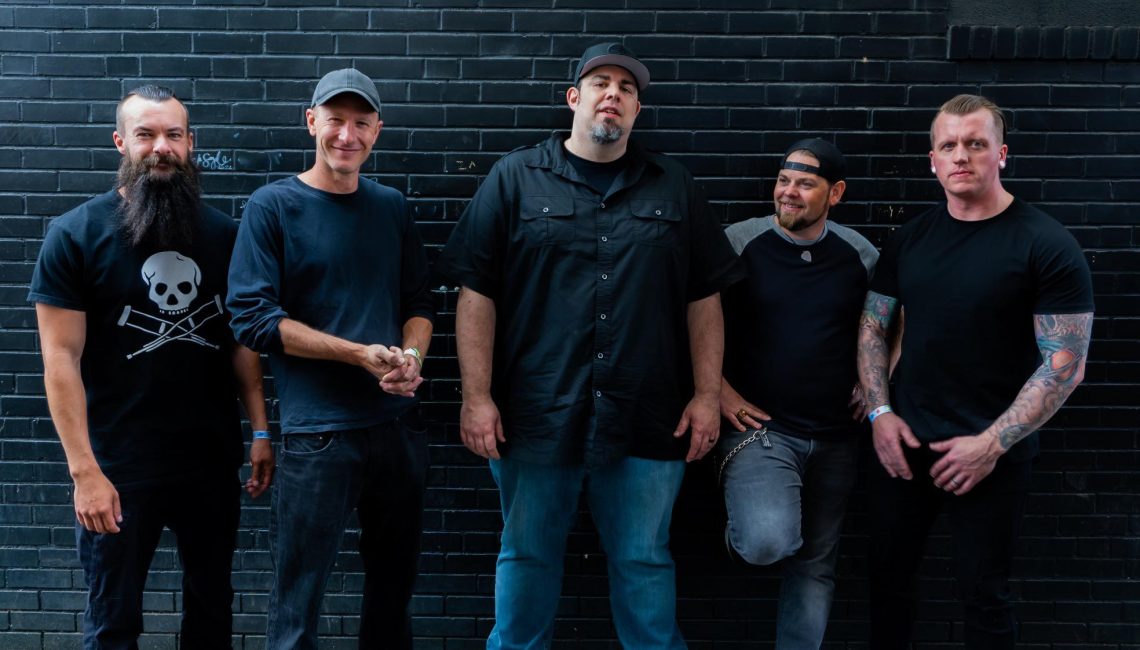 If you were to Google Motorcycle Drive-By, a song by Third Eye Blind might pop up. Or the search could produce an area band whose name was inspired by that very 1990s rock tune.
Motorcycle Drive-By will for the first time be featured at the ABB Summer Kickoff and Food Truck Festival, on the main stage at Center and Main streets, Bridgeport, 5-8 p.m. June 3.
The band, which also includes Chuck Orem, Jake Denham, Ken West and Dan Summers, plays music spanning a 20-year period, starting with – you guessed it – the 90s.
"We try not to leave any genres untouched, said Jared Miller, guitarist. "We do 90s alternative stuff like Matchbox 20, Weezer and Tonic, as well as some Shania Twain, and even hip hop whether it's Coolio or Warren G and some heavy radio rock like Metallica and Limp Bizkit."
The set list includes plenty of well-known hits.
"But we also throw in songs that people haven't heard in a long time or even forgot about," Miller said. "We take a lot of pride in the setlist and we're constantly changing it."
Motorcycle Drive By-plays a variety of venues.
"We typically play medium- to large-sized clubs with some weddings, festivals and amphitheaters sprinkled in there, but we also have our local spots," Miller said. "We are all West Virginia guys, living in different parts of the state and we kind of have four or five different local spots, attributed to our members' hometowns."
Locally, the band has played at the Social Tap and Brickside Bar & Grille, as well as Fairmont's Copper House Grill and Morgantown's Joe Mama's.
Shows are usually packed, and the band gets lots of positive feedback. But it has taken plenty of work and perseverance. The band formed in the fall of 2019 after all five musicians had been involved in other bands for the past six or seven years.
"Ironically, all those bands broke up at about the same time," Miller said. "I still wanted to play music, but I had an idea. I noticed when I would go into a bar, the bands always sounded great, but they all played the same thing. I looked around and everyone in the bar was like age 25 to 50 and I wondered why no one played '90s music. Then I thought, why don't I do that?"
It was originally Miller on lead guitar, Borem, bass and vocals, and Denham, drums and vocals. The band had just gotten its momentum when the pandemic struck and "the world shut down," Miller said.
For several months, the band worked on their craft until guidelines were lifted and they could play live again. West (guitar and vocals) and Summers (guitar and lead vocals) eventually joined and Motorcycle Drive-By realized it had something special going on.
The band members are excited to play Summer Kickoff to launch the season with city residents.
"We are super thrilled to be there. We love new opportunities and look forward to this outdoor show for people of all ages," Miller said.
Motorcycle Drive-By has a full summer agenda ahead, including stops in Canaan Valley, Marietta, Ohio, Elkins, and Deep Creek, Md. The band will also play at the Ruby McQuain Amphitheater in Morgantown, Aug. 25 with Smash Mouth. See a full schedule and stay up to date with Motorcycle Drive-By at its Web site 
HERE
.
The ABB Summer Kickoff and Food Truck Festival will also feature entertainment by Six String Outlaws, Josh Oldaker, Greg Harrison, and LeRoy & Gigs. Face painting and balloon twisting, a giant sandbox, inflatables and other seasonal attractions will be part of the celebration. More than a dozen food trucks will be stationed along Main Street. The event will also feature a Car Cruise-In, Big Dog Eating Contest, and music by DJ Benton Hoskinson. Read more about the Associated Businesses of Bridgeport Summer Kickoff and Food Truck Festival 
HERE
.
Follow Motorcycle Drive-By on 
Facebook
, and Instagram @MotorcycleDriveByWV.
Editor's Note: Band photo is courtesy of Rickey Walters.