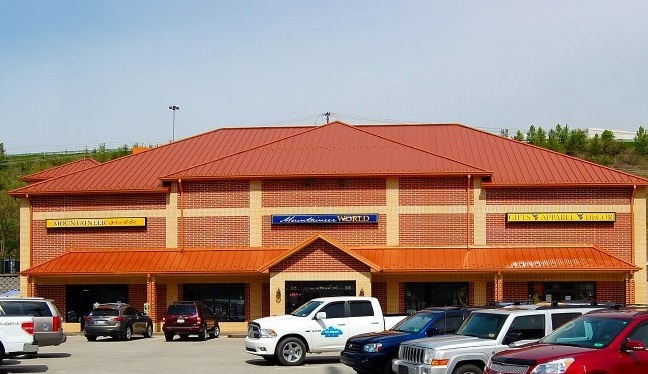 When Mountaineer Grille opened in 2009, Jarrett Brown was quarterback for the Mountaineers and Da'Sean Butler was a forward for the WVU hoops team. After broadcasting 10 years of WVU sports, the restaurant still serves wings, wraps, burgers to those who love sports – and quality, affordable foods.
Owners Joe and Pam (Hitt) Pinti, both Bridgeport natives, said it's a pleasure to enter another decade of serving their community. They also share just how the restaurant business came to be.
It all started, Pam Pinti said, when she and her husband established a new building for the family business, Benny's Boot Hill.
"We built our building in 2006 on Barnetts Run Road and built additional space under Benny's Boot Hill, which we intended to rent," she said.
Ultimately, the couple didn't rent the extra space. They filled the space with two new businesses. The first was Mountaineer World.
"We love the Mountain State and we know West Virginians love the Mountaineers," Pinti said. "In an attempt to provide all things West Virginia to the people of the Mountain State, we decided to open a West Virginia retail store."
Packed with WVU-themed attire, home furnishings, jewelry and novelties, the store opened in September 2009, creating an air of Mountaineer pride. The next phase of the new business venture was soon made clear.
"One of Joe's older brothers, Chef Kevin Pinti, moved back to the area and was looking for employment, so we decided to open a West Virginia-themed restaurant and try to give our customers a one-stop location for shopping and dining."
As was Benny's Boot Hill, Mountaineer Grille was rich in family tradition.
"Anne's soup is named after Joe's mom. It is a soup she used to make at home with leftovers for her large (seven children) family, consisting of vegetables, chicken, beef and pasta," Pinti said. "The Big Benny is named after Joe's dad, because he loved a good sandwich. It's our form of a 'hot Italian' consisting of lunch meats, cheese, special relish, lettuce and tomato and our homemade dressing."
In addition to signature game-style foods, soups, sandwiches and salads, Mountaineer Grille offers affordable upscale dining.
"Most people know we offer a casual sports-themed setting with casual food, but what most don't know is that we offer fine dining food, as well," Pinti said. "Kevin is a seafood specialist. he does seafood specials which include shrimp, crab cakes, scallops and even lobster tails and fresh fish. We also have a ribeye and a filet on our menu which are fantastic tasting and fantastically priced."
Mountaineer Grille also offers craft beers and IPAs, as well as a full bar. The restaurant, which can accommodate 70, offers 20-minute call-ahead seating.
The Pintis' son Tyler is the general manager of Mountaineer Grille, Mountaineer World and Benny's Boot Hill, collectively the Shoppes of Benny's Place. The restaurant, which now employs 20 individuals, is also famous for sausage pasta, pasta primavera, ribeye sandwiches, Big 12 BBQ and burgers.
In addition to old favorites, there are always new items added to the restaurant's offerings.
"We have always served wraps, but recently we added the option of having the same ingredients in a hoagie bun," Pinti said. "We use a special bun made for us by a local bakery."
Another recent menu addition is "Joe's Salad."
"He wasn't crazy about having his name on the menu, but it's what he likes and orders and so our friends and family started ordering it too," Pinti said. "Everyone started calling it 'Joe's Salad,' so I added it to the menu."
Featuring mixed lettuces blended with carrots, cheese, fresh-cut seasoned tomatoes, olives and choice of homemade dressings, the salad – like the 10-year-old Mountaineer Grille and Mountaineer World – has been well received by the public.
"We love our hometown and our family tradition of offering a service to those in the community," Pinti said.
Pictured just above is the extended Pinti family, holding Thanksgiving Dinner at Mountaineer Grille.