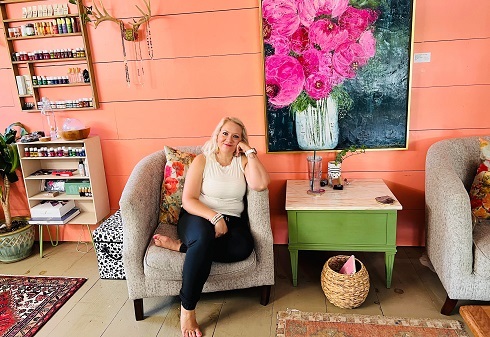 Nearing a decade of business on Bridgeport's Main Street, Allison Clem continues to provide organic spa services at River Song Spa. But over the past several months, she has added some retail therapy.
Her in-house boutique features semi-precious crystal, clay disc, and beaded bracelets, hand-knotted Turkish rugs, feather and leather earrings, greeting cards, and more.
"We've had a great response. A lot of people come in and get gifts and we've added a tissue paper bar, so we can wrap those gifts," Clem said. "It's a big financial investment to make a shift like that, but we're trying to do it gradually."
With her since November 2021, Leeandra Sabatelli has been not only helpful, but also a big inspiration. With similar tastes and visions, the women have delved into one project after another.
The inventory line started with Clem's semi-precious crystal bracelets.
"I call them gradient color or combinations of bracelets, where the gemstones are most expensive," she said. "Then, we started finding cheaper sources for our crystals – not as high grade; more single stones and pops of color, but still semi-precious."
Then the women began noticing bracelet trends in their favorite stores and social media accounts.
"Leanndra started doing clay disc bracelets, showing how to layer and stack them," Clem said.
Word bracelets followed and they plan to expand upon that line this fall and winter with football-themed bracelets in the colors of area high schools and colleges.
The earrings are purchased from a pair of designers; one based in West Virginia and the other from California. Little Grave Creek Designs come from Glen Dale and feature intricate, hand-beaded earrings in an array of colors. Those from the western shore – Astali – feature designs of pheasant feathers and deerskin leather.
"They have almost like an edgy vibe and I think in West Virginia we have a connection with nature and the outdoors, so I feel like we can get away with that here," Clem said. "Friends often come in and pick out a pair to go with an outfit they are wearing to a concert or whatever."
The rugs, Clem said, were a bit of a splurge.
"They're vintage – like '70s and '80s – from Turkey, hand-knotted, handmade rugs," he said. "Each one is different and they aren't meant to be throwaway, but meant to last a lifetime. They are meant to be like a little investment for your floors; art for your floors, adding color and texture."
Another splurge is the wall art by Emily Kurth of Coco & June, as well as Stacey Oxley.
Clem said she and Sabatelli are working on what they will carry for the holidays.
"We try to forecast stuff four to six months out, order a curated selection of things for a season," she said. "I'm really inspired by stores like Anthropology, so I try to have a very similar aesthetic here for shopping – very unique gifts. I don't know that I'll ever branch out into clothing, but I love housewares, décor, gifts, etc."
Another inspiration is Ella & Company out of Thomas.
Clem continues to craft essential oils which she utilizes for spa services and sells.
"We do a lot of stuff with essential oils, and we've expanded how many we keep in stock for people to come in and buy," she said.
She also carries a skincare line.
"We sill really focus on organic ingredients, so we really focus on facials, yoga, using makeup that is clean and organic," Clem said. "I still do bridal makeup and we have an infrared sauna that more and more people are learning the health benefits of."
Riversong Spa is located at 351 East Main Street and is accessible from the back of the building. The spa opened in November of 2012 and was then located on West Main Street in the Chandler Building.