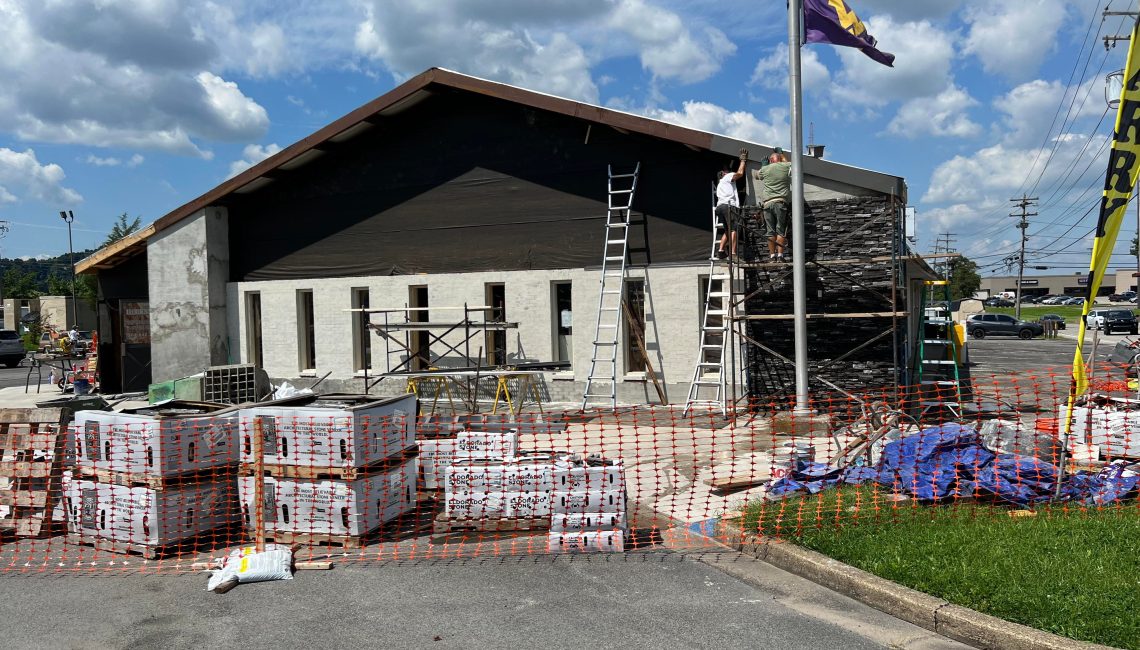 There are some major renovations taking place at Brickside Bar & Grill. When it is completed, guests will be treated to a brand-new dining experience.
"We're modernizing a 50-year-old building, taking it from 1972 to 2022 – adding new façade and a new look to the building," said Owner Rob Davis. "Once it's done, it will be a 'wow factor' with beautiful signage and a lot of stonework."
I will be a true brick-sided building, with all new exterior lighting. The fresh look will also encompass the inside.
"There will be a beautiful walk-in foyer, very receptive to people," Davis said. "The banquet room will be completely redone with new carpet. We 
took the front doors out and made it completely open, adding new windows where the front doors used to be."
The whole building is undergoing rewiring for sound and camera systems and new entrances are being established for the main restaurant and the banquet room, which will seat an additional 30 people.
The project is quite costly, but Davis said he has been saving for some time to bring his vision to reality.  It's about providing a quality dining experience.
"I went all-out. I didn't short-change anything," he said. "I knew what I wanted and I'm doing it. I like the competition and I want to show people 
that we are going to be here for a long time. I want to leave my kids a legacy."
As some of the renovations reflect, Brickside is not just a sports bar/restaurant, but also a family restaurant. Because of the loyal patronage of his customers, Davis said he can finance the renovations without a bank loan.
"It's because of our clientele and I'm very fortunate," he said. "My money goes right back into the building."
Davis has obtained primarily local products and services. That is important to him, he said.
"Even if it cost a little more, I still bought local – from doors to signage to some custom-made products," he said.
"We want to make it so everyone wants to be here – locals and travelers. Many new people don't realize we are here."
Brickside Bar & Grill is located in the former USA Steak Buffet building, and little has been done since the changeover 20 years ago. Davis said he couldn't be more excited about the renovations.
"I'm like a kid in a candy store," he said. "Once it's done, I'm going to invite a lot of people to come up and enjoy it with me."
The project began in mid-July and Davis anticipates a mid-September completion, but that could be pushed back, depending upon potential shipping delays.
A grand re-opening date will be announced in the coming weeks.
Next year, Davis plans to extend the deck – an extremely popular seasonal spot that has its own bar and features live entertainment. The stage will double in size, accommodating bigger bands.
"That will be the next step for us, after the parking lot is paved," Davis said.
Brickside Bar & Grill is located at 101 Lodgeville Road, Bridgeport.