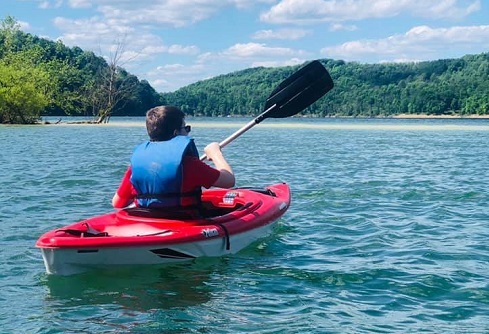 Just 15 miles east of Bridgeport is a treasure trove of summer adventure. Many locals make the frequent jaunt to boat, fish, swim, hike and otherwise recreate at Grafton's Tygart Lake State Park. But the popular waterworks site is about to get even better.
The anchoring system has been set for a variety of ACE Adventure water attractions set to be in operation this summer. Details are yet to be released, but the plan is for adventurists to be able to choose from morning or evening sessions or full day passes to access the inflatable attractions.
.
Once the ACE Adventure attractions are set at Tygart Lake, ACE will handle reservations. Details will be shared on Connect-Bridgeport when available.
But the water fun doesn't end there. The Taylor County Adventure Club – the catalyst of the ACE Adventure project – also offers lazy river tours for both Tygart Lake and Tygart River. Half- and full-day tube rentals are available for the float or you may choose kayak or stand-up paddleboard adventures.
"We operate Wednesday through Sunday, but we can do Monday or Tuesday if booked in advance for birthday parties or other special occasions," said Taylor County Adventure Club Executive Director Bryan Smith. "Tours vary between a couple different locations and we offer shuttle service. The inner tubes have cup holders and families can hook tubes together. For kids age 2 and under, there are bottoms in the floats."
This is the fourth year for the lazy river tours.
"The first year we did it was a trial run and we probably had 200 people. The second year we had around 1,500 people show up and the third year close to 3,000," Smith said. "In 2020, it was back down to around 1,500 because of COVID."
Reservations for the floating excursions can be made by calling 304-709-0164.
The Taylor County Adventure Club is located at Grafton City Park below Tygart Dam.
"We started the Adventure Club because no one was doing a lot to take advantage of Tygart River and Lake as there was no parks and recreation commission in Taylor County," Smith said. "We formed the Adventure Club, realizing we had a great opportunity for tourism."
"
If you choose to stay at one of our hotels in the Charles Pointe or White Oaks area (details 
HERE
), you are within a 25-minute drive to Grafton. From Jerry Dove Drive, take 279 East to Route 50 East/George Washington Highway for a straight shot to Grafton. While on the road, you may want to stop by the International Mother's Day Shrine at 11 East Main Street, Grafton and/or the 3.2-acre National Cemetery.
Upon return to Bridgeport, enjoy dinner at one of our many quality restaurants. See details about each 
HERE 
at the Greater Bridgeport Convention & Visitors Bureau Web site.