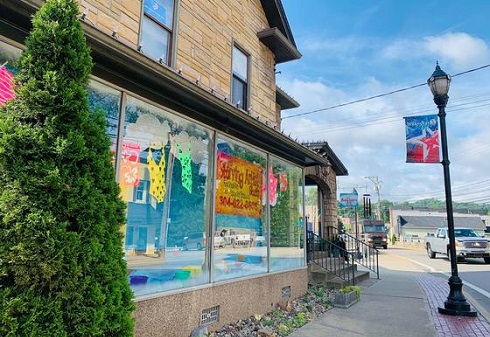 June 1 is the target opening date for "Babe and Honey," featuring paint classes and the unique creations of local artisans.
Nutter Fort resident Casey Gorby looks forward to the next chapter of her business, one which will mirror The Starving Artist and The Sanctuary, which have operated out of the same West Main Street building for the past 10 years.
"I got my business license a year or so ago and did it under Babe and Honey, which is what my grandparents called each other," Gorby said.
Her grandmother Barbara Gorby operated a little artisan market out of a Nutter Fort garage apartment in the 1970s.
"She sold all kind of products and trinkets," Gorby said. "She always told stories of how supportive my grandfather (Jack Gorby) was."
Artisans who presently sell wares at The Sanctuary are all invited to continue at Babe and Honey and more will be added to the mix.
"It will be much like it is known now, but of course, I'll add my own vibe in there," Gorby said. "I probably know 10 to 20 women who would love to have things for sale and our plan is to hopefully also offer yoga classes on weekends and maybe some others. One woman wants to sell plants and offer classes on how to pot certain plants and create terrariums."
Setting up her vendors is the first action of business, but Gorby will be offering paint classes, too. The artist chapter of her life came along four to five years ago.
"I did some paintings for a friend and posted them online. People messaged me and from there I worked from home and have been talking about opening my own shop for years," she said.
Gorby, who has taught paint classes through My Little Cupcake, won't be the only instructor on board.
Amanda and Bill Leaseburg, owners of The Starving Artist, will continue to teach classes; some out of the West Main Street location.
Gorby said she already has a great working relationship with the Leaseburgs and with landlords Judy and Mark Bonamico. She said she is excited about continuing an already good thing for the community and evolving it with her own style.
Though her grandfather has passed, her grandmother is getting to see her inspiration passed down to her granddaughter.
Photos taken at The Sanctuary, which has been a venue for local artisans for the past 10 years.