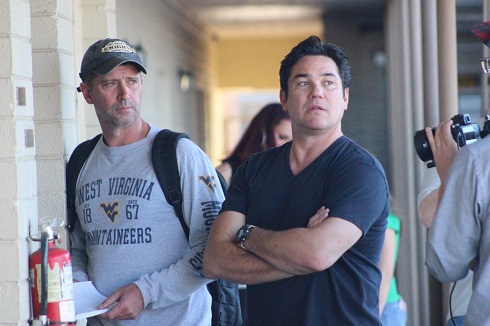 If you haven't been able to take part in any of the handful of JC Films projects made in the immediate area, you have a half dozen more chances.
Owner/producer of the film company, Jason Campbell, said six faith-based family films – all starring actor Dean Cain – will be made during 2020 in the Bridgeport/Clarksburg/Morgantown areas.
"We are building our catalog of talent of folks in North Central West Virginia," Campbell said. "We get approached by a lot of folks who want to turn their books into films – some non-profit organizations which want to help brand their organization and awareness to their cause. We push for the shooting of the films to be in the Bridgeport/Clarksburg area because it's such a wonderful community to make films and everyone is excited and enthusiastic."
Communication between authors and the film company has been solid. A variety of films are in the works for the coming months.
Filming began this weekend for the JC Films project, "Being Trump." Though the movie features President Donald Trump, it is more about the return of civility in politics.
"This film isn't anti-Trump or pro-Trump. It's not a political film. There's no policy; it's just a parity film that has a message about returning civility to policy and politics," Campbell said. "We want to make a film that young people can watch – one that is funny, but clean and delivers a message."
The cast has been selected for that film which will be shot over the next four weekends. The filming kicked off Friday with a meet and greet at Holiday Inn Express & Suites with actor Will Stauff, who portrays the president in the movie.
Shooting starts in April for a film titled "Don't Give Up," which deals with depression.
"This is a reality film, one of the darker films we've ever made. It's about understanding depression and the reality of depression from adolescence to adulthood," Campbell said. "The subject of prescription drugs also comes up. It covers the gamut."
The kickoff of "Don't Give Up" coincides with the premiere of JC Films' police drama "Dispatched." Cain will be in town for the April 19 screening at Bridgeport United Methodist Church and filming for the new movie will begin that weekend.
Starting in June, filming will take place for "One Life at a Time," a Mel Trotter Ministries film about homelessness. In addition to Clarksburg, scenes will be shot in Grand Rapids, Mich. The inspirational biography tells the story of Trotter, a broken man who was rescued by Christ and eventually established a chain of missions – more than 67 – from Boston to San Francisco. With a belief that everyone deserves value, dignity and respect – and has a story to tell – Trotter changed the way society viewed homelessness, Campbell said.
Also scheduled to begin production this summer is a film based on a book by Clarksburg's Lexsana Pilewski-Carr.
"She was a teacher in Clarksburg for 30-40 years and she wrote a book called 'No Talking Out of School,' a really funny comedy about being a teacher in West Virginia," Campbell said. "It is very well-written and she is a highly respected educator so we're turning that book into a film this summer."
Late-summer or early-fall will feature the filming of "A Man Went to Heaven," an uplifting movie about what Heaven will really be like.
"There are a lot of books which explore what we are doing to do in Heaven. Will we have jobs? Will we go swimming? Pack luggage for the airplane? If you really look at the scriptures, you'll start to see a blueprint of what it will be like and sometimes we fail to see that," Campbell said. "We will worship our Lord and Savior, but the bible clearly says it's going to be a new earth so it's going to resemble earth."
The year will conclude with the filming of a movie sure to hold a special place in the heart of Bridgeport residents. The modern-day story of the book of Ruth will be centered around Light Up Night. Dean Cain will portray Bridgeport Mayor "Bo."
"It's a love story that resembles the story of Ruth and Naomi and their journey which ties in with Light Up Night," Campbell said.
Glimpses of Campbell's own love story with Bridgeport's Heather Starkey Mudrick will be included in the storyline. They met in 2018 during the shooting of JC Films' "Megan's Christmas Miracle" at Mudrick's dance studio, Studio 9 Dance Academy. By working together to create and promote faith-based films which bring hope to others, their relationship blossomed. Mudrick's husband Mark had passed away in 2017 after suffering an accident.