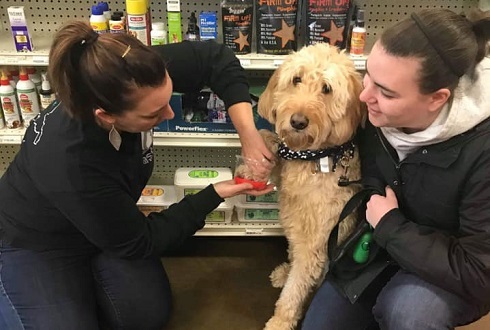 There are several dozen stores in Bridgeport, but only one place to purchase a chinchilla, parakeet, ferret – or scorpion.
Eastern Pet Supply not only features some unique inventory, but it is one of the city's longest-operating retailers and West Virginia's largest family-owned pet store.
In its 30th year at Blake Center on Johnson Avenue, the store occupies nearly 10 times more space than it did when it opened in 1990. That was the year Tony J. Veltri brought his vision to reality: Providing area pet owners with a one-stop shop to purchase quality products at low prices. He filled his 1,250-square-foot space with items he felt were in biggest demand and staffed it with knowledgeable employees. Throughout last three decades, inventory has changed to meet growing needs and the store has grown.
Joe Veltri, who now runs the store, said the first growth spurt happened in 1996, after he moved back from Pittsburgh to help his dad run the family business. When a 2,500-square-foot area became available in the same plaza, the Veltris completed a short-distance relocation. Within a year, the front end of the same building became available and they once again doubled their space; this time utilizing the extra room to start selling freshwater fish. The final expansion took place in 2001 when Eastern Pet Supply moved into space formerly occupied by Wholesale Mattress.
The store's 11,000 square feet was – and continues to be – occupied with everything from natural pet foods, toys, treats and care supplies for all kinds of pets.
"Of course, we have dog and cat food and everything you need to take care of dogs and cats, but we also have supplies for reptiles and exotic animals like sugar gliders, prairie dogs and hedgehogs," said Jenny Reed, Eastern Pet Supply marketing director.
Because of USDA licensing requirements, the store cannot stock those exotic animals, but it is permitted to carry chinchillas, which are always a customer favorite. Other small animals available for purchase include guinea pigs, ferrets, rats and rabbits.
Reptiles like iguanas, geckos and bearded dragons, as well as pythons, boas and other snakes are housed in the Jurassic Reptile Room. Also living there are turtles and tortoises, Pacman and tree frogs and an array of spiders, including various species of tarantulas and scorpions.
Eastern Pet Supply also houses feathered friends, generally parakeets, cockatiels and love birds. Veltri said whenever possible, the store sources its animal supply locally.
As one might guess, the array of live creatures attracts window shoppers, both kids and adults, alike. It's always a pleasure to educate visitors about the creatures and their necessary care.
Customers can also browse the colorful freshwater and saltwater fish, tanks, aquarium and pond supplies.
"We also supply live food for reptiles: Feeder mice, crickets and horn worms," said Reed, adding that the latter are among popular purchases for local fishermen.
For the past eight years, Eastern Pet Supply has offered grooming services, yet another way to accommodate local pet owners with quality services, Veltri said.
More recent additions – both proving popular among patrons – are online ordering with store pickup and a full line of CBD products – for both pets and humans.
Reed said the CBD products are available in treat, pill and drop form and utilized by customers to treat joint problems, chronic illness and anxiety – both long-term and situational.
"We sell a lot of it around the 4th of July," Reed said.
Learn more about Eastern Pet Supply, located at 1400 Johnson Avenue, across from Sheetz, 
HERE 
at its Web site.