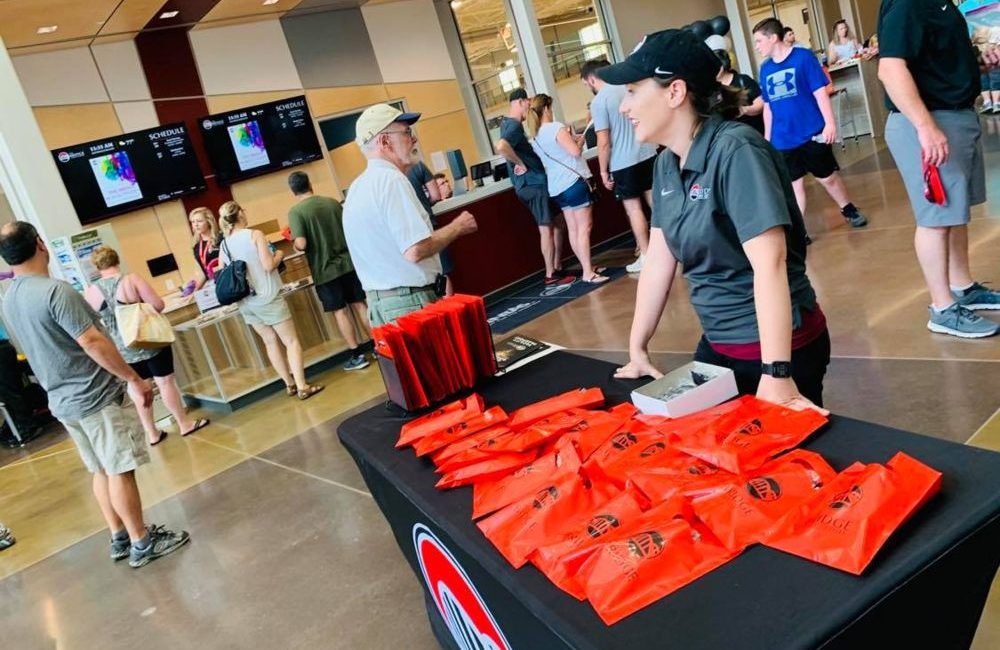 Saturday morning, The Bridge Sports Complex welcomed visitors with smiles, a complimentary lunch – and a "passport."
Guests used the passports to mark off areas visited: The Clip n' Climb, gym, turf, preview of Lil' Trolls Day Camp and more. Also available were face painting, balloon creations, a photo booth and fitness class sampling.
It was all part of The Bridge Grand Opening Weekend which launched with Thursday's Bridge to Health 5K Festival and Friday evening's reception and ribbon cutting.
Saturday's event – and the facility in general – was well received.
"I love it. It's great," said Bridgeport's Andrew Horne.
Saturday, he and his kids spent much time in the Clip n' Climb area, but the family – including wife Kimberly – has visited the complex several times over the past couple of weeks.
"We're members and I also play in the adult basketball league," Horne said. "We bring the kids up, walk around the track and some mornings I come up here and run."
Horne said his family looks forward to the pool and starting swim practice.
Bridgeport's Steve and Luann Rittenhouse were seeing the facility for the first time.
"It's really nice, even better than I expected," said Steve Rittenhouse. "We watched them build it, walking around the trail for the last year and a half."
The couple especially likes the overhead walking trail and expects to use it often. They will likely also frequent the pools and commented that the restrooms and locker rooms were top notch.
"We also think our grandkids will really like the climbing wall," Luann Rittenhouse added..
Eli, Lyza and Olivia Hilterman were impressed with the Clip n' Climb. Their favorite courses were Rock Climb to Heaven and the 40-Meter Dash, the latter which the girls completed several times, improving their personal best times upon each completion.
"I'm not sure what my best time was. All I know is that I beat my sister," Lyza said.
Eli, age 11, also really liked the basketball court which he said was "super big." He especially liked using "The Gun" to rebound his shots.
The Gun was also a favorite of Bob Wagoner's 5- and 11-year-old grandsons.
Wagoner, of Clarksburg, brought the boys to check out the complex and spend a few fun hours trying out the features.
Maddie Kloster, marketing manager for The Bridge, said the staff was pleased with Saturday's turnout. She said most inquiries concerned either memberships or the anticipated opening of the pools – a competitive size lane pool and a "warm pool," kept around 85 degrees and equipped with easy-entry steps and an in-water bench.
The answer to that popular question is July 5, Kloster said.
Kids who completed their "passports" were eligible for prize drawings. Everyone present were gifted with kids' sunglasses, hand sanitizer and temporary tattoos.
Early bird membership rates ended June 26, but memberships are still available. Learn more 
HERE
.