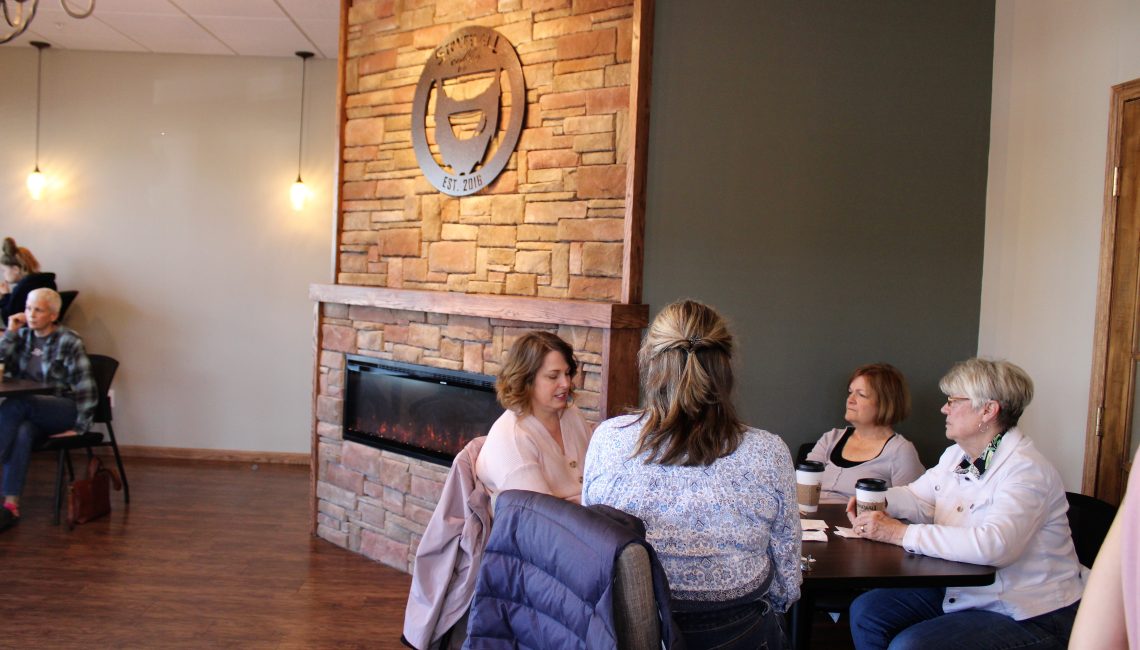 A large crowd gathered at Stonewall Coffee in Bridgeport April 27 as the ribbon was officially cut on the new business and an all-day grand opening took place. The Harrison County Chamber of Commerce facilitated the ribbon cutting with a handful of officials on scene. Also present was Bridgeport City Councilman Jon Griffith, who offered a warm welcome to the new Bridgeport business. Stonewall Coffee is owned by Kevin and Sarah Zakariasen, who also own and operate a coffee shop in Clarksburg. Members of their large family were also in attendance. Kevin Zakariasen opened the ribbon-cutting with remarks about how glad he and his wife are to have a Bridgeport-based
business and giving glory to God. Prayer was also held before the ribbon was cut. Read the story which ran last week on Connect-Bridgeport below.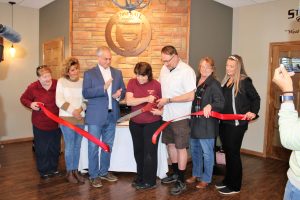 ORIGINAL STORY
Kevin and Sarah Zakariasen are in their fifth year of business. To date, they have purchased, brewed and served nearly 5,000 pounds of coffee.
Now, the couple has expanded their Clarksburg-based business and opened a second store in Bridgeport. Stonewall Coffee is located at 1219 Johnson Avenue, in the space previously occupied by Dr. David Faris and just beside Subway.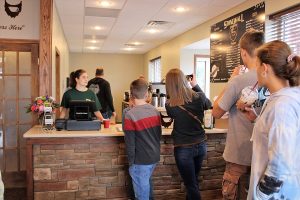 "We remodeled the inside, put in a fireplace, and put a hole in the wall to create a drive-through," Kevin Zakariasen said.
As they did in Clarksburg, the couple wanted a welcoming, family-friendly atmosphere, where folks could stop in for a cup of coffee and a chat.
"We do hot, frozen, and iced coffees, as well as espresso," Zakariasen said. "We also serve organic teas, chai hot chocolate, Italian sodas, and all kind of drinks."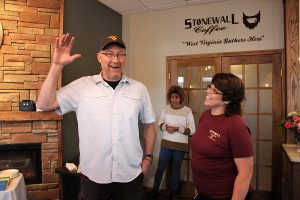 Eventually, Stonewall Coffee in Bridgeport will sell Sarah's cinnamon rolls and likely some other fresh-baked treats, such as blueberry muffins, chocolate muffins, biscotti and basically "things that go well with coffee," Kevin said.
The Zakariasens, who live in Clarksburg, have seven biological children – six boys and one girl – all of who are grown. They also adopted a child and currently are fostering one of many they have taken in through the years.
Kevin formerly worked for The Bulletin Board, a publication listing items and property for sale. When the business sold, he and his wife decided to open their own business.
"We bought an old building that was empty, right next to the (Harrison County) courthouse that used to be an attorneys' office. We gutted the whole thing, put in a fireplace and built a nice stone wall around it and put in everything new," Kevin said. "It has gone well and we made it through the pandemic. Five years down the road, God has given us an opportunity to open a second shop and we went for it."
Stonewall Coffee purchases coffee from Crimson Cup, a roaster in Columbus.
The store is open 9 a.m. through 5 p.m. Monday through Friday, but will likely expand hours in the future.