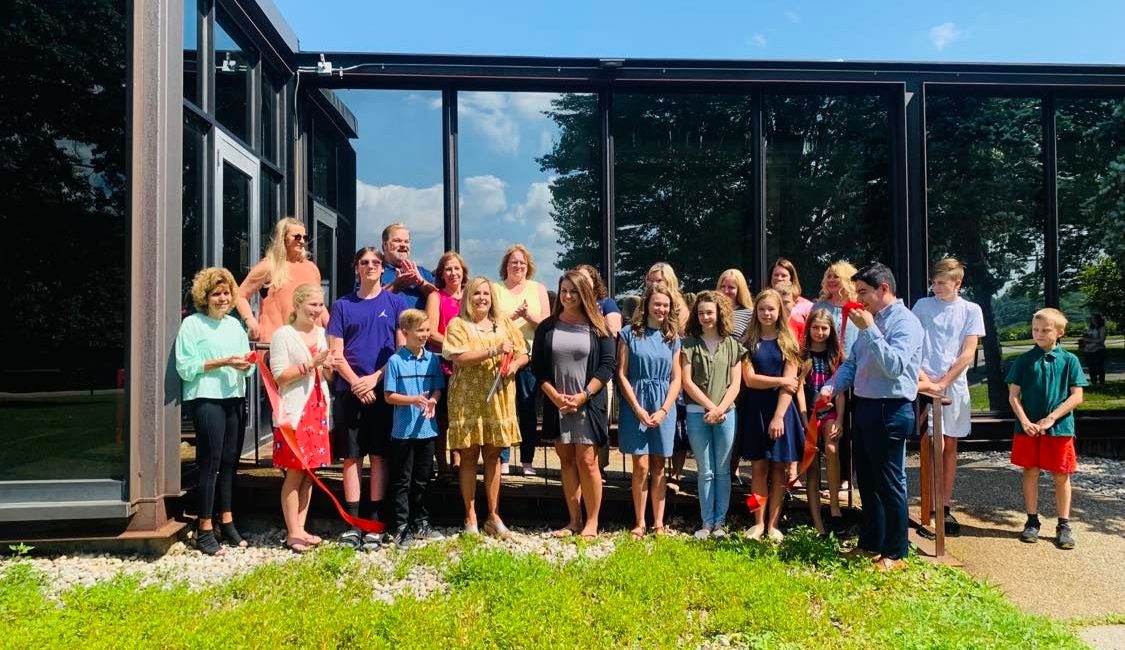 The ribbon was cut Wednesday morning on City on a Hill Christian Academy in Bridgeport. Shaping students with a biblical worldview, the school is open to students in kindergarten through 12th grade.
The goal of the learning facility, said Head of School Melissa Mohr, is to provide more educational choices.
"We just feel in our tri-county area, we need more options – and slightly different options – as we continue to move in the direction of choice," she said. "Our school is considered a micro school. Recent legislation has passed micro school as an option under the home school, so we decided to kind of marry traditional private school with home school."
Students wishing to attend City on a Hill Christian Academy file a notice of intent for homeschooling.
"There is such a push toward homeschooling, but there are a lot of families who do want to participate in their children's education, but parents work part-time or whatever. This is kind of a collaboration," Mohr said
Students will attend classes at City on a Hill Christian Academy Monday through Thursday, but they will be at home on Friday.
"Friday is their self-study day," Mohr said. "We're encouraging students, especially middle school and up, to find things they know they are interested in – music lessons, for example – so they can study it on that day. For our high schoolers, we'll be seeking out job shadowing opportunities and taking them on college visits, even looking for internships that could be part of their Fridays."
For elementary students, Friday will be an extension of what they learn through the week.
"They will be sent home with enrichment materials for what we cover Monday through Thursday, providing activities that will enrich the knowledge they now have," Mohr said. "And we're encouraging families if they know of something they feel their student isn't really grasping, we can tailor their Friday activities to speak to that need."
Mohr has 18 years of teaching experience and five years of administrative experience, most recently at Heritage Christian School. She said City on a Hill wants to help students find their way in life, to be the bridge between their futures and their education.
"I think all schools want to help kids find what their purpose on this planet, but it's hard because so many other things have to be taught within the model," she said. "But we can do that; especially our juniors and seniors, we want them to be serious about it. We don't want them to hit college or go to trade school without knowing this is in the realm of possibility for them."
City on a Hill is working with Fairmont State University and Liberty University Online Academy, providing options for dual-credit or early-college courses.
The school will provide Christian-based curriculum.
"We'll be biblically integrating every subject and also have separate bible classes and chapel services," Mohr said.
To date, nearly 40 students are enrolled for City on a Hill Christian Academy for the 2022-23 school year.
"Some classes are filling up. We're getting inbox messages and emails daily from people requesting applications," Mohr said.
Classrooms are limited to 10 students per grade.
"It is year one for us, so we want to do what we're doing with excellence and on a smaller scale and we will expand from there, learning what worked and what didn't work, tweaking things for next year," Mohr said. "Also, our building is one story, so we want plenty of room to spread out and learn."
The school can accommodate between 100 and 130 students. So far, six faculty members are on board and two more are needed.
Mohr encourages parents to investigate this education option.
"Every child is different. They can't all do the same things and be successful," she said. "Come check it out. We can do tours if they want to see the facility."
So far, six faculty members are on board and two more are needed.
"We also have a wonderful board of directors, who are helping us prepare as well," Mohr said. "All of us are working together on a list of tasks."
Facilitating Wednesday's ribbon cutting was the Harrison County Chamber of Commerce. Bridgeport Director of Development Andrea Kerr also attended, providing welcoming remarks. Included in the picture are faculty members, board members, and future students of the academy.
City on a Hill is located at 164 Thompson Drive, just past Gabe's, in the former South Ridge Church building.
Mohr said the academy was originally going to be located in Fairmont, but plans changed after discovering this location.
"I live in Fairmont, but I've grown to love Bridgeport; it's my home away from home," she said. "Bridgeport is wonderful."
Access a school application via email info@cityonahillwv.org. Also visit the City on a Hill Christian Academy Facebook page for information and updates.