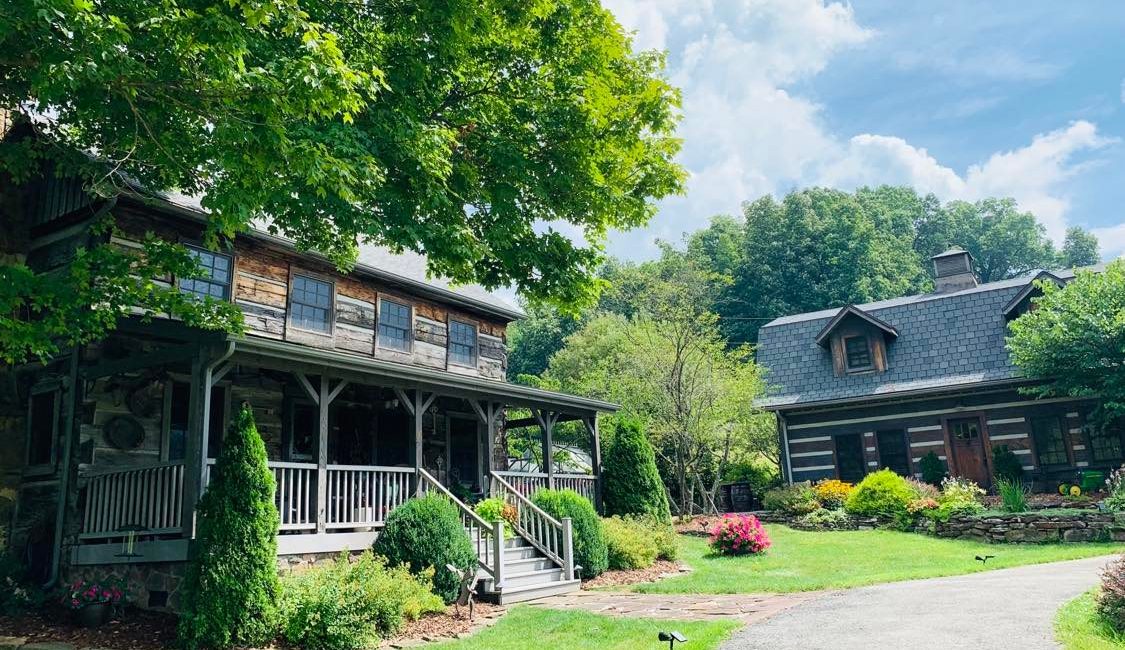 There are items of interest in every corner of Steve and Carla Engle's cleverly reconstructed mid-19
th
 century log home. A family heirloom dresser has become a vanity, a hidden pocket door leads to a surprise loft, and a Conestoga wagon wheel serves as a bench on their most welcoming front porch. A pair of whiskey barrels have been repurposed into a backyard bar, another as a back porch sink. Not one, but two of Steve's handcrafted cedar canoes are suspended from ceilings. As Steve tells the story about each accent and each room of the couple's unique home on Johnstown Road, you can tell his mind is in motion for the next project.
The entire homestead – which includes the original log cabin, a guest cottage, barn/workshop, greenhouse, waterfall, pond, and countless relaxing nooks and play places, all started when Steve – who always had a fascination with log houses – discovered this abandoned one in the 1980s.
"The process of the Stonewall Lake and Dam project took place in the early '80s and they had condemned farms and houses in that area," he said.
He purchased the land with hopes of restoring the 16×32' home, then a mere skeleton of what it once had been. He knew nothing about the history of the structure until he happened to mention his project to his congregation at Chapel Hill United Methodist Church in Buckhannon.
"A church member came to me after church and said he worked for the Corps of Engineers and had done background on the Butcher/Bush farm before it flooded during the Stonewall Jackson Lake project," Steve said. "He had interviewed the last living relative, who had since passed away."
As it turned out, the cabin – located in Little Skin Creek – was built by Isaac Butcher and his wife Christiana.
"They skidded the first story logs in the spring snow of 1846, when it was still the Commonwealth of Virginia," Steve said. "They built the first story, then as the family began to grow, they took the roof off and added a second story. Then reared 10 children in the house."
By 1989 – working three years in his spare time – Engle, who was a contractor by trade, had the structure under roof, once again. It was meant to be a cabin, a home away from home. But he and Carla and their blended family of four boys fell in love with it and it became their family home.
"They had four-wheelers, tree houses, fishing, and cattle surrounding us – free range – and they didn't want to leave," Steve said.
Through the years, the family has maintained a home in the country and a flat in the city. The flat is their apartment above Carla's Kindermusic business on Philadelphia Avenue in Bridgeport.
Their log home remained true to its original floor plan, which presented challenges for storage and required resourcefulness for utilizing every space to its potential. With no closets, armoires and dressers – as well as some creative ingenuity – house the Engles' belongings. Steve
Their log home remained true to its original floor plan, which presented challenges for storage and required resourcefulness for utilizing every space to its potential. With no closets, armoires and dressers – as well as some creative ingenuity – house the Engles' belongings. Steve has built a creative storage system in the cabin's loft which stows so many items, Carla maintains a spreadsheet to keep track of what is stored where.
"When the boys were little, all their toys had to be able to break down and store away," Steve said.
Among favorites were replica tree houses which came with self-storage. In fact, the toys were the inspiration behind the real tree houses that Steve built in the yard; true treehouses that connect with a swinging bridge.
As the family outgrew the living space, the couple considered adding onto the cabin.
"I couldn't figure out a way to do that without compromising the authenticity of the log cabin, so we decided to just build a separate guests' house," Steve said.
It was constructed with new logs, stained to match the original cabin. Both homes are decorated in cozy country style, with plenty of nostalgia – and clever notions – mixed in. Vintage quilts, cowboy boots and hats; even a saddle have been incorporated into the décor. A corner of the original cabin's second floor is adorned with pigs, including a family heirloom storybook. Nearly every piece of furniture in the cabin was either built by Steve or belonged to a grandparent or other family member. Pictures of those ancestors are part of the home; sprinkled throughout the living area, including a guest house glass-top table which features old family photos and silver dollars.
There's also a touch of glamour, reflective of Carla's style. Included are sparkly high heel accents and a guest bath featuring a white slipper tub surrounded by classic black and white color scheme.
"I feel the place is very eclectic," Carla said. "We use things we like or find on trips – old mixed with new."
Their living quarters are reflective of the Engles' passions. The barn/workshop houses Steve's woodwork station where he turns bowls from tree burl wood.  A greenhouse features summertime flowers, but it is used in the off seasons for various purposes, like tea parties, fancy holiday dinners, and a heated retreat from wintertime play.
Colorful perennials and a pond plentiful with lily pads and waterfalls bring the compound together. It's been a story in the making and the "rustic functional" home has been an interesting place to raise their family.
"It's been a very unique place to raise our sons and now enjoy our grandchildren. When the granddaughters arrive, we really never know where they are going to head first. They dearly love to explore," Carla said. "The rural setting has allowed us to be in touch with nature every day, watch the cattle farmers around us build their livelihoods around the cattle business, freedom to play without security issues and be in a 'peace-filled" environment daily," she said.
The Engles have enjoyed the country home for 25 years and have been generous in sharing their serene setting. In recent years, they have hosted five weddings, utilizing the grounds to accommodate the brides' dreams. In late-June and early-July, they opened their home for four consecutive days, welcoming the public for tours and refreshments to mark the cabin's 175
th
anniversary. A memorable anniversary, it was. Just days before, the property was flooded, resulting in some heavy excavation work and cleanup. But with much hard work and determination, it was completed in time and about 400 people toured the home during the open house week.
The Engles' blended family includes Richard Gillespie and wife Natalia of Washington, DC, Steven Gillespie, wife Holly and daughters Phebe and Virginia of White Sulphur Springs, Chad Engle and wife Megan of Austin, Texas and Russell Gillespie of Huntsville, Ala.