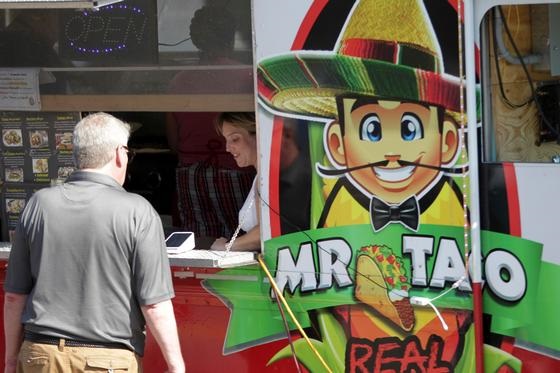 A year on the road has brought Mr. Taco Food Truck quite a following. Starting in early-October, its Mexican food offerings will now be available at the Mr. Taco restaurant, located at the former Marino Brothers Restaurant in Glen Elk.
"Our customers constantly ask about us having a restaurant and many are amazed that we don't," said Ken Tyson, who along his wife Alma, owns the popular food truck business. "The idea was presented to us for the location, and we thought – well, let's give our friends and family what they want. And the idea was born from there."
Tyson said the most popular Mr. Taco menu item is the So Cal Burrito, followed by The Tacos Al Pastor (marinated pork) and Mexican Street Corn.
The restaurant will feature those specialties and others – nachos, tacos, tortas and quesadillas and sweets including sopapillia, tres leches and chocoflan. The restaurant menu will also include some new items.
"We are going to California next week to build our menu and work on ideas," Tyson said.
The Mr. Taco food journey began in Bridgeport in late-summer 2020 after the Tysons spent a few years revamping a truck to serve as a rolling restaurant. They sold fresh, made-to-order items Alma learned to while growing up in La Tiepad in Michoacan, Mexico. Also available were desserts from Alma's Kitchen and Bakery, which the couple also owned and operated.
The Tysons target Oct. 1 for the restaurant opening. The Mr. Taco Food Truck will still be on the road, but likely observing a different schedule. Alma's Kitchen and Bakery will still accept special orders, but because of the popularity of the couple's Mexican fare, the kitchen of that facility is also being utilized by Mr. Taco.
Mr. Taco, the restaurant, will be located at 415 Baltimore Ave. in Glen Elk. Though Marino Brothers Restaurant is closed, their deli business will remain open in the lower floor of the building.
Editor's Note: Pictured top/cover is the Mr. Taco Food Truck during the 2021 ABB Summer Kickoff in downtown Bridgeport. Photo is by Ben Queen Photography.