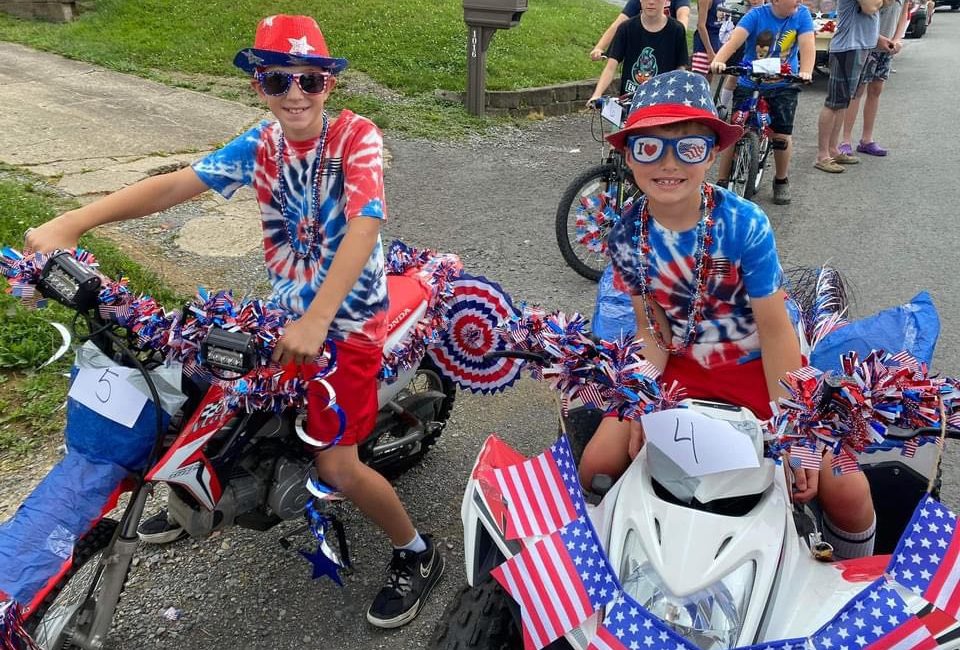 The 4
th
 of July holiday draws Bridgeport neighborhoods together in a festive way. From cookouts to parades and patriotic music, communities within our community celebrate in style.
Maple Lake is well known for Independence Day festivities. The day begins with a parade around the lake featuring residents and their two- and four-wheeled vehicles.
Cookouts and fireworks break out across the lake community, where residents and their guests enjoy one of the biggest days of the year.
"The 4th of July is great. I moved to Maple Lake in 2017 so this is my 6th year celebrating the 4th at the lake as a resident," said Chris Cleghorn.
As it continues to grow, the celebration usually starts on July 2.
"Lake member Greg Harrison kicks it off with an acoustic show hosted by longtime lake members Jason and Beth Rine, with fireworks to follow. On the 3rd, it's The Dam Jam (hosted by me) which is a live acoustic show with Evan Ferrell singing the last two years. People gather down by the dam with chairs and tents to enjoy neighbors and family," Cleghorn said.
On July 4, festivities begin with a flag-raising by Maple Lake veterans. The parade follows at 11 a.m.
"Lake members decorate their golfcart, side-by-sides, 4-wheelers, bikes, and cars to make the trip around the lake," Cleghorn said. "For the last four years, the 304 Jeep Club has driven our veterans around as 'parade marshals.'"
The lake residents enjoy a full day of games – from egg toss, sack and three-legged races to a greased watermelon contest.
"The highlight of the day is always the biggest splash contest," Cleghorn said. "This year, it was won by Cam Hess knocking his dad out of a longstanding title!"
Though Maple Lake doesn't officially host fireworks, many residents purchase their own and combined, it is pretty spectacular, residents said.
"Maple Lake has always been the best neighborhood and on the 4th and it continues to get even better," Cleghorn said. "Families gather and return to carry on decades of traditions at the lake!"
Newer to the Independence Day tradition is Worthington Village.
After coming together for a barbeque and seasonal games in 2022, the community hosted its first 4th of July parade this year. On Sat., July 1, kids decorated their bikes, scooters, and other vehicles, then dressed in style for a procession around the neighborhood.
"We had so much fun! Those kids had smiles on their little faces all day long. It was the sweetest," said resident Angela Grilli Laine. "They did the parade and then a little girl had a lemonade stand, then we had our annual neighborhood cookout, so it was just an all-day celebration!"
Resident Brandon LeRoy opened the festivities by singing The National Anthem. Worthington Village also hosts progressive holiday parties and a St. Patrick's Day party.
"These kids don't realize how awesome they have it," Laine said. "They are growing up with an extended family and are all like brothers and sisters."
Mom nights and Dad poker nights bring adults together for conversation and that also builds important relationships.
"It truly is the best neighborhood ever," Laine said.
"I love my neighbors so very much!"
Top and third photo were provided by Maple Lake residents. Second and bottom photo were provided by Worthington Village residents.
Editor's Note: Does your Bridgeport neighborhood do something special during the 4th of July weekend or anytime during the summer? Email me at julie@connect-bridgeport.com and tell me about it.