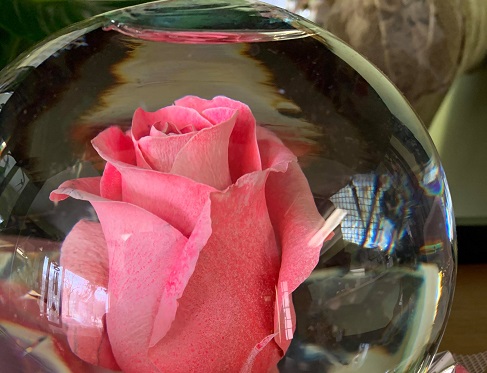 We're just 21 days out from a holiday which centers around love. And who isn't ready for that?
Treat the object of your affection with a gift or date night featuring the ideas of our city's retailers and restauranteurs. In today's article, we concentrate on flowers and sweets.
Soon, we will share with you gift ideas, as well as specials and featured entrees of our Bridgeport eateries.
First, the flowers.
Flowers were very significant to the Victorians. They use flowers to express their feelings. … Because of their tradition and beliefs that flowers, especially Roses were meant to express emotions and feelings. This associated the red roses as a symbol and
Oliverio's Florist on Bridgeport's Main Street is stocking dozens of roses in all colors and varieties. One of this year's stars is the unique "Forever Rose."
"It's in a glass globe and lasts a lot longer than a regular rose," said Owner Jerry Jolliffe.
The Forever Rose is $35 and a dozen roses sell for $75 this season. Red, pink, white and purple are the most popular colors for flowers of all varieties, Joliffe said.
Pickup and delivery services are available and early ordering is recommended.
"We always make sure to take care of the people who ordered first," Joliffe said. "Once we get within a couple days of Valentine's Day, it gets harder for us to promise anything specific."
There will be "grab and go" gifts in the store, also available on a first come basis.
Sweets for the sweet:
When Hamlet's mother, the queen, delivered "Sweets to the sweet," she's wasn't bearing a hostess gift or offering candy to her date. The queen's "sweets" were funeral bouquets scattered in the grave of Ophelia, Hamlet's former flame. www.enotes.com/shakespeare
… But still, we guarantee your significant other will welcome candy and other confections as a pathway to his or her heart.
"A sweet treat is perfect for Valentine's Day, especially this year with all of the COVID restrictions concerning going out," said Kaycee Crislip, co-owner of My Little Cupcake. "Our Mackies make the perfect unique treat for those who don't want to share. It's a single large macaron cookie boxed in a cute Valentine's Day box."
Available in raspberry, strawberry or red velvet, Mackies sell for $5 each. Also on My Little Cupcake's Valentine's Day menu are heart-shaped cakes in vanilla, chocolate or red velvet at $25 each; a dozen cupcakes at $20 (variety included: chocolate-covered strawberry, raspberry champagne, Reese Cup and red velvet); a dozen cake pops (red velvet, vanilla or chocolate) and box of sugar cookies at $12 (5 round and three small hearts iced with buttercream).
Although walk-in orders will be taken, it is highly recommended that customers place orders ahead of time by calling 304-933-3443.
Almost Heaven Desserts on West Main Street always has your back when it comes to sweet treats. Those they are featuring for Valentine's Day include the chocolate strawberry parfait, rosette mini sugar cookies, customized smoothies and acai bowls, as well as a full line of coffees, cheesecake, cookies, chocolate-covered strawberries and many other sweet selections.
Winnie's on East Main Street offers a plethora of delectable treats – healthy ones at that.
"We have pucker-up smoothie bowls, sweetheart toast, chocolate-covered strawberry protein shakes and new coffee flavors," said Owner Brandi Post.
Valentine smoothie bowls include pineapple, strawberry, banana and pitaya powder. Also available for a limited time Strawberry pie French toast, Berry Pink protein shake with raspberries, banana, protein, honey and almond milk or a Valentine Bagel topped with fresh strawberries and cream cheese.