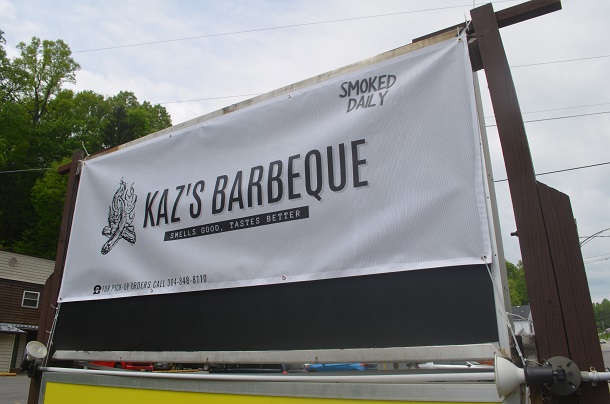 It is not the first restaurant rodeo for Bridgeport's Steve and Eva Kaczmarek. As the owners and operators of Sweet Tee's at the Club (Clarksburg Country Club), they know what it takes to make a restaurant work.
That experience should bode well as the two have opened up a new restaurant. And they are in a building that is not hosting its first eatery.
If the address 795 West Main Street looks familiar on the food front, there is a reason for it. It has been home to Gourmet Café and most recently, T&M BBQ.
As of last week, it is the new home of Kaz's Barbeque. The sign features the business name with the phrase "Smells Good, Tastes Better" underneath. Once pulling into the parking lot, the smell hits you – and Steve Kaczmarek said they are going to do everything they can to follow up on the "tastes better" part as well.
"We're excited to over a quality product to Bridgeport and the entire area," Steve, 1986 Bridgeport High graduate, said. "We've been looking to diversify our business on the restaurant end, looking to add another revenue stream with a quality product, and have been doing so for the last few years."
So, why the jump now?
"We just haven't been in a hurry, but when this opportunity came up, it was perfect," he said. "I think anyone will tell you the location is spectacular,"
The location along Route 50 will result in thousands of cars daily going past the business. It is one of the reasons the building rarely sits vacant for too long after Gourmet Café began operations there in 1997.
"We also know the owners of the building, which helped facilitate everything," said Steve.
The Kaczmareks hope you will get to know their food as well. He said it is similar to a basic barbeque joint with brisket by the pound or on a sandwich, and the same with pulled pork. He said there will be halved barbequed chickens that are brined overnight for what he said is "an amazing taste."
Along with the standards, there will be side dishes. Baked beans, macaroni and cheese, Mexican Street Cron, potato salad, along with a green of either green beans or collared greens. There will be two to three revolving desserts as well.
"It is very basic and we believe that will help it to remain very good," said Steve. "We will be adding things, maybe a roast as well as ribs and sausages, and there will be some other sides at times. You will see additions as we get started."
The smoker, he said, was the big purchase and the location of most of the cooking. Very little, outside of some of the sides, will be done inside.
"The smoker will be doing the heavy lifting," he said.
The business hours are tentative at the moment, but he said they plan on being open six days a week. They will open at 11 a.m. and into the evening hours. He plans to have at least five staff members and up to 10. Steve will spend most of his time there with his wife Eva handling things primarily at Sweet Tee's.
Eventually, regular updates and information will be able to be found on their Facebook page. You can access it HERE to see if there is information.
Editor's Note: Photos show the business sign, the smoker, and some of the meat freshly prepped.