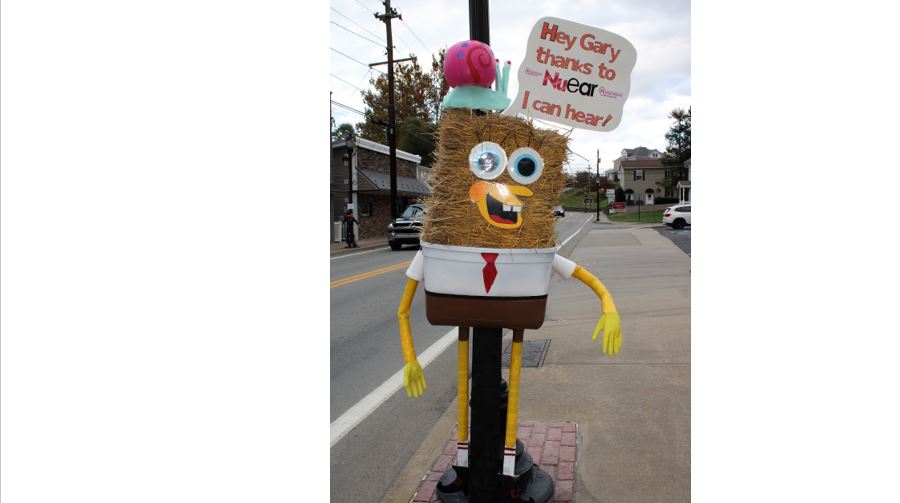 Barnacles! With a whopping 33.4 percent of total votes, Hearing Solution Services won this year's Main Street Scarecrow Contest, sponsored by the Associated Businesses of Bridgeport.
The star scarecrow is SpongeBob Square Pants, who brought along his pet snail, Gary.
After landing in the solid bottom of last year's contest, Hearing Solutions is thrilled that 665 individuals cast votes for the cartoon icon.
"I think we had a great scarecrow and a good fan base," said Patient Care Coordinator Alice Baughman.
Baughman said she made the sign, but she gives all the crafty credit to her co-worker Ada Burgoyne, Hearing Solutions office manager.
A self-proclaimed crafter, Burgoyne said some unique inspiration was behind this year's scarecrow design.
"We got two new goats this year, so we had plenty of haybales. They are already square, so I thought why not make Sponge Bob. He's so popular with the kids," she said. "I made him and Gary with recycled materials I found around the house and pulled him together in two days. I think he's been a great addition to this year's scarecrow lineup."
Indeed, he has been. Six hundred sixty-five Connect-Bridgeport readers thought he was the best.
Owned by Hearing Specialist John Vash, Hearing Solutions performs free hearing exams, prescribes hearing solutions and provides cleanings and other maintenance services.
If you looked closely at Sponge Bob, you may have noticed that he was wearing hearing aids.
Taking second place in this year's contest was Cava & Banko's Clark Kent/Superman scarecrow. The superhero, complete with a telephone booth and plenty of autumn swag, received 537 votes; 27 percent of the total votes.