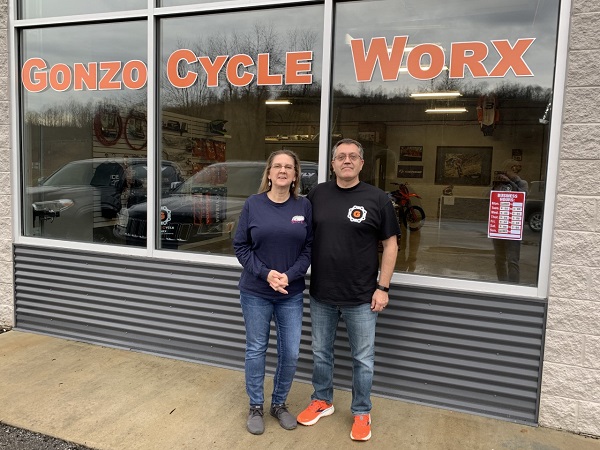 Ben Gonzalez has been riding dirt bikes for 40 years and has worked in the motorcycle industry for more than 20 years so it should come as little surprise that he has a passion for things with wheels.
He and his wife, Theresa Gonzalez, have recently used that passion to launch a new business venture as the Bridgeport residents opened the doors to Gonzo Cycle Worx on Jan. 3.
"We've talked about it for a few years and just decided it was time to do it," Ben Gonzalez said. "We've noticed there are a lot of people around here that ride and we like that stuff too.
"As a motorcycle enthusiast myself, I am very excited to provide the community with quality products at a fair market price that they can purchase and take home the same day."
The store features parts and accessories for motorcycles, ATVs, UWs, four-wheelers and side-by-sides. They carry aftermarket and OEM parts and accessories with a full stock of frequently used items on hand and there is the ability to special order items in a timely manner.
Gonzalez said items include tires, brakes, plastic, riding apparel and helmets. The goal is to make Gonzo Cycle Worx a one-stop shop to fit your needs no matter if it is for racing, strictly recreational use, work purposes, or just general maintenance and upkeep.
Gonzo Cycle Worx is located at 105 N. Wedge Street, Suite 4 in Bridgeport. It's just off Exit 125 (the Saltwell Road exit) on I-79. The building is fixed between Burger King and Freed's Greenhouse and directly behind The Country Roads Grill, which is part of the White Oaks development.
Theresa is a native of Elkins, while Ben is originally from Ohio. They have lived in West Virginia for 26 years and relocated to Bridgeport 10 years ago.
Theresa is not only supportive of Ben's passion for bikes, but is also a big part of the business.
"I just do the books and he has the bikes smarts," she said. "We're a good team. Where he lacks, I make up for and where I lack, he makes up for. It's a good fit."
Gonzo Cycle Worx is open from 9 a.m to 5 p.m. Tuesday through Friday, 9 a.m. to 3 p.m. on Saturday and closed on Sunday and Monday.
More information about Gonzo Cycle Worx is available on its Facebook Page 
HERE