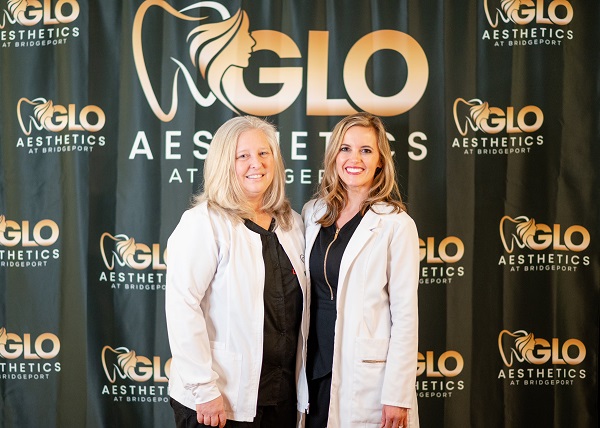 Statistics show that more than 60 percent of people are not comfortable in their own skin, with complaints ranging from wrinkles to acne to scarring.
On top of that, nearly 35 percent are unhappy with their smiles, citing discolored, crooked or damaged teeth among their woes. Considering these statistics, it's easy to see that beauty is more than skin deep and impacts every aspect of life including confidence, professionalism and communication.
Having worked together as dentists, Dr. Breana Dieringer and Dr. Lynnel Beauchesne decided to expand their services by opening GLO Aesthetics, a comprehensive facility offering facial aesthetic services as well as limited dental services and supplemental products. Their goal is simply to improve the quality of life for customers, whether the issue is on the surface or is reflected in a painful condition.
Of all the healthcare professionals, dentists are among those who are experts when it comes to facial anatomy. Through years of research and application, they are very familiar with the shape and proportions of the face, the location of nerves, muscles, bones and blood vessels, and have plenty of experience with injections.  In addition to what a regular dentist office offers, GLO Aesthetics will offer consultative services to assess options for customers seeking aesthetic issues to improve both their teeth and their skin.
"It is our goal to improve confidence and comfort of our clients through the use of our various services," said Dieringer. "Our professional staff will implement the latest procedures and ensure that aesthetic issues will not stand in their way."
Dieringer has a passion for esthetic dentistry and is a member of the American Academy of Facial Esthetics. She is also certified for professional administration of dermal fillers and botulinum toxins, as well as other facial procedures. Beauchesne has more than 20 years of experience as a dentist and is a member of the American Academy of Functional Orthodontics and the International Association for Orthodontics.  She will be offering teeth alignment services at GLO Aesthetics in addition to other professional services.
Dental treatments offered at GLO will include treating gummy or asymmetrical smiles, angular chelitis, gaining volume for proper phonetics, retraining facial muscles, preparation for dentures, teeth whitening, offering clear alignment options, providing sports mouthguards and creating custom devices for grinding issues. In addition to making appliances for bruxism, they will offer the use of botulinum toxins to treat the muscle behanvior and facial pain associated with the disorder.
Facial aesthetic services will include botulinum toxins, used both for pain relief and wrinkles, Hyaluronic Acid Fillers to restore volume and enhance facial features, Kybella, which creates a tighter jaw line by permantently detring fat under the chin, Polydioxanone, which offers a visible lift and natural smoothness to the face, and treatment of scars, fine lines, skin irregularities and crepey skin. The facility will also offer skincare and nutritional supplements.
The minimally invasive procedures will be administered by professionally trained staff members who are dedicated to customer satisfaction. With a more youthful appearance, less pain, and better dental health, clients can expect more confidence which can lead to increased opportunities both personally and professionally.
GLO Aesthetics is now accepting clients, located at 449 East Main Street in Bridgeport.
Additional information can be found by calling them at 304-808-1287 or by visiting their Facebook or Instagram pages.