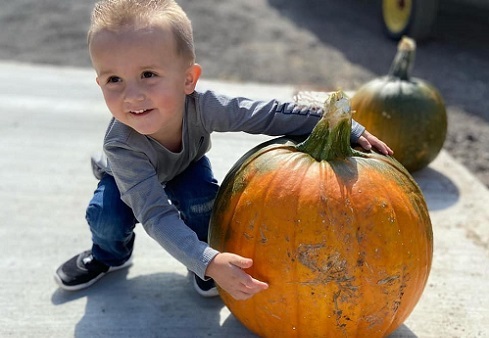 Autumn came to life at the Edge of Town Farm Market last weekend and more seasonal fun is coming up this Saturday and Sunday.
For the first time, Jason Poth has opened his farm – located on Route 58 between Bridgeport and Anmoore – to the public.
Visitors can not only purchase grass-fed beef and bison, but also hand-crafted quilts, fresh-baked and country boutique items. They can even buy fall-time decorative items, such as cornstalks, and pick their own pumpkins off the vine.
"We have pumpkins on the front  and back porch, along with hay bales, or if kids want to, they can ride on our wagon – kind of like a hayride – go into the pumpkin patch and pick their own," said Hanna Lipscomb, Poth's stepdaughter and part of the Edge of Town Farm Market venture.
The hayride opportunity will be available on Saturday only, but the market will be open 10 a.m.-4 p.m. Saturdays and Sundays. Last week's vendors, Mountain Chic Boutique and The Bread Bowl, will be on hand, as well as some vendors.
Poth, who grew up on the 100-plus-acre farm, has built the marketplace himself. Active at Bridgeport Farmers Market, it was his vision to build a building where he could host his own market for community members.
"He's building it himself and has been working on it about a year," Lipscomb said. "Seeing everyone there – and his hard work paying off – made me proud."
It has been a festive atmosphere.
"Everybody was excited and there were people there from Bridgeport Farmers Market, happy to see each other doing so well," Lipscomb said.
The market building is still a work in progress, and it will eventually feature an on-site bakery. In the meantime, the market will operate at least through Christmas. New vendors and holiday items will be forthcoming.
The market kicked off Friday and Saturday, Oct. 2 and 3, but it was decided that Saturday and Sunday would better accommodate visitors.
In addition to running the Anmoore farm, Poth owns and operates a 112-acre farm on Meadland Road and operates a couple other nearby farms.
Edge of Town Market is located at 1165 Anmoore Road. There is plenty of parking for visitors and all are welcome, Lipscomb said.