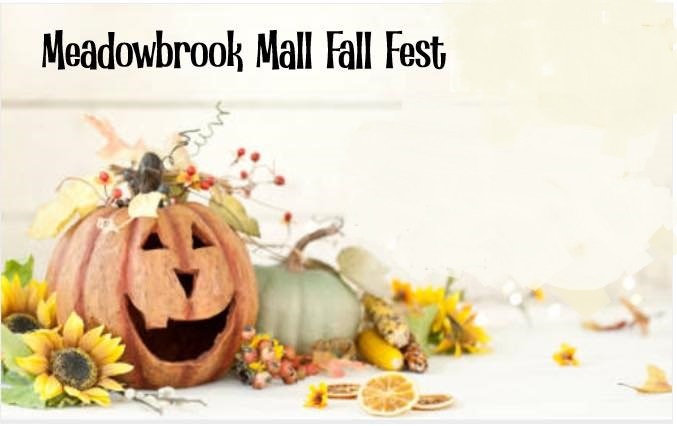 The Meadowbrook Mall Fall Fest – the first event of its kind – will take place Saturday, Oct. 15. The day kicks off with a mall-wide craft show with a Halloween costume contest and parade to follow.
From 11 a.m. through 5 p.m., artisans will be set up throughout the mall. Marketing Director Joseph Thomas said there is something for everyone.
"We currently have 40-plus vendors attending the craft show, which will include a wide range of products from woodworkers, wreaths, handmade soaps, custom cornhole boards, and even a face painter – just to name a few," he said.
Vendor Chair Christina Murphy said vendors will start at Center Court and will fan out to the left and right main hallways. Murphy's business, Pawsitively Delish, will be selling homemade dog treats. Jewelry, stained glass, original prints, crochet items, homemade journals, and resin key chains are additional items that will be available for purchase.
A costume contest – open to all ages – will take place at the Children's Play Area (rides) near Donna's Unique Gifts.
"We are accepting all ages; however, at this time we only have children registered," Thomas said. "We are encouraging those who are interested to sign up by messaging us on Facebook no later than Oct. 13. We will be giving away goody bags for all participating children, and gift cards – ranging from $10 to $50 – for winners."
At 7 p.m., parade participants will meet at the same location.
"Participants are encouraged to donate at least $5 and all proceeds will benefit WVU Medicine Children's," Thomas said. "Participants will also receive a free pizza party at the end of the parade."
The charity parade portion of the event has taken place for the past several years as a Zombie Walk.
"We felt that the craze over zombies has faded over the years, and it was time for a rebrand," Thomas said.
But still, celebrity Jeremy Ambler ("Walking Dead," "Wrong Turn," etc.) will be on hand for meet and greets during the Fall Fest. He will be joined by Jennie Malone ("Wrong Turn," "Dark Waters," etc.), and Beverly Washburn ("Spider Baby," "Star Trek," "Old Yeller," etc.)
Leading up to the Oct. 15 Fall Fest – starting Monday, Oct. 10 – a blue pumpkin scavenger hunt will be set up throughout the mall. Kids can participate by inquiring at the Customer Service desk. The scavenger hunt is to bring awareness to autism and special needs.
Finally, Meadowbrook Mall's "Truck or Treat" will be held 6-8 p.m. Thursday, Oct. 27 in the mall parking lot. The mall is partnering with HD Truck Center and UniCare Health Plan for that event, Thomas said.
There will be no trick-or-treating Sat., Oct. 15 during the Fall Fest.
Shoppers will also be treated during the Halloween season, Thomas said. Starting now, sign up for Meadowbrook Mall text message by texting "SHOP" to 855-947-5569, shoppers can show their sign-up text to Customer Service and enter to win one of five Halloween gift baskets, valued over $50.