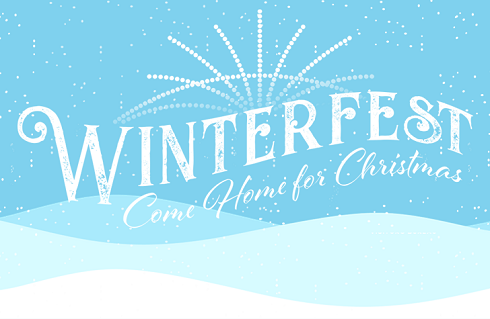 The Clarksburg Visitors Bureau is proud to announce Clarksburg's first annual WinterFest, "Come Home for Christmas," on December 3-4, 2021 in downtown Clarksburg.
With a multitude of community activities and performances planned, the weekend event will surely be a way to bring everyone together during the holiday season. The tentative schedule is as follows:
"When I became director of the Clarksburg Visitors Bureau, I had family, friends, business owners, and public officials tell me that Clarksburg needed some sort of Winter Festival. I took the time to listen to all of the wonderful ideas. I knew we had a perfect location to hold such an
event and I also knew I could count on the citizens of this community to come together to make it happen. We have representation from nearly 20 organizations, civic clubs, churches, and community volunteers on our planning committee," saidTina Yoke.
Some of the features of the festival include a holiday WinterFest Parade on Friday night, a Winter Market of Artisans which will be held under the roof of Jackson Square, performances from local area schools, a live nativity scene, craft demonstrations, an array of children's activities, a holiday event at the Robinson Grand Performing Arts Center, and of course, Santa will be present. Local restaurants and businesses will be open for extended hours and local food trucks will also join the festival for plenty of food, drink, and treat options for all attending.
FRIDAY, DECEMBER 3
Winter Market of Artisans (Jackson Square) 5-9 p.m.
WinterFest Parade (downtown) 6-7 p.m.
Tree Lighting Ceremony (The Waldomore lawn) following parade
SATURDAY, DECEMBER 4
Winter Market of Artisans (Jackson Square) 10 a.m.-6 p.m.
WinterFest Performances, Demonstrations, & Activities 10 a.m.-6 p.m.
Robinson Grand Holiday Event (Doors at 6:30 p.m.) 7:30-9:30 p.m.
Visitors from all over are invited to Come Home to Clarksburg for our Winterfest! There are still artisan and vendor spaces available. If any vendors, community organizations, artisans, and volunteers would like to be involved in this inaugural event, please contact Tina Yoke,
Executive Director at 304.622.2157 or tyoke@exploreclarksburg.com. Check out the Clarksburg WinterFest Facebook Page for updates and more information.