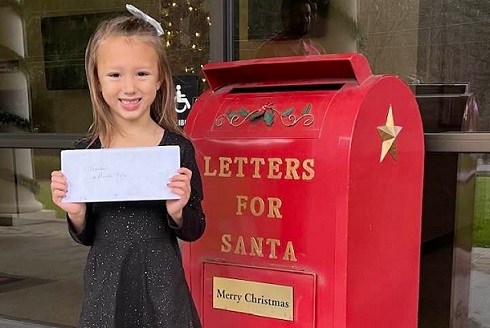 The City of Bridgeport's Letters to Santa program is in full swing for 2022. Children of Bridgeport residents are invited to drop their letters and wish lists into one of two mailboxes set up for the special deliveries. As always, there is a mailbox in front of the Bridgeport Municipal Building at 515 West Main Street. This year, a mailbox is also located in front of the Benedum Civic Center, 164 West Main Street.
"We just thought it would be convenient for people to be able to mail their letters to Santa here at the Civic Center," said Parks and Recreation Coordinator Amy Callahan.
Last year, about 100 letters to Santa filtered through the City of Bridgeport's system. If mailed by Dec. 15 and a self-addressed stamped envelope is included, children will receive a personalized letter from Santa.
The program was started in 2017 by Bridgeport Community Development Director Andrea Kerr, who still heads it up. She said the community embraced the project and the city is delighted to continue a tradition that brings joy to our children.
Editor's Note: Photo is courtesy of Lesli Malone.